»
more content in German | mehr Inhalt auf deutsch

Tag Archives:
blog parade
Just a German blog carnival about the Firefox plugins people are using…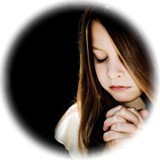 First, this post is about the Misanthrope's blog carnival (German) about the original "Gretchen's question"
Gretchen: "How do you feel about religion? Tell me, pray. You are a dear, good-hearted man, but I believe you've little good of it to say."
(Faust, part I, verse 3415)
Of course that's a topic that you can easily discuss and quarrel about and which has led to way too many religious wars. Let's hope that e.g. the comments here at Konna's coincidentally matching post (German) won't get out of hand like this.

As mentioned here from time to time, I'm an atheist. Of course I don't mind if others believe, as long as they don't strive to actively evangelize me or others or seriously harm them or even, as in case of some fundamentalists, want to punish for non- or other-believing; and I'm not too happy about spreading too much antiscientific nonsense like creationism, either…
I need no god, no heaven and especially no church; not even to find a "meaning of life"… what's the meaning of life for me? Short answer: Life! (And I don't mean that in an egoistic way.)
Now some – like e.g. Wu-Lan-Tong – may mention:
"But don't atheists believe, too?
They believe in nothing, they say.
That, too, is believing, I say."
I don't see it that way. Believers "must" believe, have faith in something – in the existence of a higher power, in miracles or other phenomena, for this consideration can be extended towards the paranormal and various pretended supernatural pgenomena –, which secludes itself from rational, scientific access. Atheists – and, with aformenetioned topical extension, skeptics – can do without the assumption of or the belief in such "supernatural" elements simply from the rational side, all pragmatically, since there are simpler, more coherent explanations.
If you want to call this trust in the scientific point of view as "faith" or "belief", you have to take a very far stretched definition of these words which is lightyears away from the faith that's the basis for religion; mixing them up must, in a sense, lead to misunderstandings.
For this, see also Phil Plait's extensive explanation "Is science faith-based?" – you just need the simple assumption that the universe obeys a set of rules (and that you can deduce these by observation) – and the long discussions there…
About the (un-)provabilities of phenomena – and accompanying problems – (and a few other things) I had already written my article based on the Uri Geller interviews on ProSieben.de: "I believe we have been brought here from other planets"
Proof and faith issues and the strange thoughts of Uri Geller.
Finally (for the first part of this post) let me mention the small poll I had here on the sidebar last autumn; its 42 participants voted like this: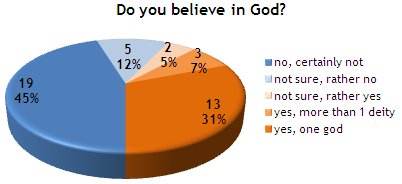 ---
Let's move on to the other part of the title – astrology, somewhat also as an example for superstition, which I personally don't think much of, either, "of course". The magazine Gehirn & Geist (brain and mind) had a poll (which I had mentioned in my links of the week last December) about "What do you think of the power of the star?" – 464 people participated, and a total of 35% believe that zodiac signs reveal at least something about people. The entire result can be viewed/downloaded here (German).
The corresponding article "Die Kunst der Sterndeuter" ("the art of the astrologers") can also be downloaded freely. I'd like to mention (and translate) two quotes from it:
"The Australian Geoffrey Dean, who gave up his astrological profession due to sobering findings, analyzed until today over 50 […] attribution studies. His conclusion: His former colleagues were not able to attribute a hososcope that has been created according to exact birth data to a personality profile or a case history any better than a random number generator."
Also, the fact that so many people consider newspaper horoscopes – which aren't even created according to exact birth data – appealing is of course based on how they are written:
The tricks of the pros
How do newspaper astrologers manage to have so many readers find themselves in their short texts? Germanist Katja Furthmann identified in 2006 in her doctorate seven linguistic artifices:

exhaustive topic presentation, for instance by combining opposites
use of abstract terms like chance, problem …
relative and ambiguous formulation
integration of timeless truths
clearness through pictorial formulation
astrologic technical terms
staging proximity and emotional affection.

Furthmann, K.: Die Sterne lügen nicht. Göttingen: Vandenhoeck & Ruprecht 2006
And let me also mention my post about a magazine article about fortune telling on TV.
A German blog carnival about what to put in the sidebar – didn't have time to translate it yet…
Perun möchte in seiner Blog-Parade wissen, was in die Sidebar soll – also diese Leiste rechts (in anderen Blogs auch links oder an beiden Seiten), in denen vielerlei Dinge zu finden sind.
Ich verbinde das auch gleich mit der Frage, ob ihr, meine Leser, Verbesserungsvorschläge für meine Sidebar habt.

Peruns konkrete Fragen (bei denen er der Einfachheit halber Header und Footer ignoriert haben will) sind:
Was finde ich sinnvoll in der "Sidebar"?
(Das Wichtigere ist fettgeschrieben.)
Hauptnavigation (besser im Header);
Informations-Link "Über das Blog", "Über mich" o.ä.;
Suche;
RSS-Feed-Links, am besten mit dem bekannten orange Icon;
Themen-Kategorien – aber nicht zuviele, keine ellenlange Liste*; keine vielleicht lustigen, aber erst auf den dritten Blick verständlichen Bezeichnungen;
Die neuesten Beiträge – nicht auf den Index-Seiten, aber in der Einzelansicht;
Die neuesten Kommentare;
Top-Kommentatoren – als kleiner Anreiz;
Evtl. ein Link zu einem zufälligen oder vor x Monaten erschienenen Beitrag; und falls eine Bildergalerie vorhanden ist, ein Zufalls-Bild daraus;
Blogroll – in begrenztem Umfang, ggf. nur zufällige Auswahl;
Ein kompaktes Monatsarchiv (z.B. Drop-Down-Liste wie bei mir) – keine kilometerlange Liste, gerade bei älteren Blogs**;
Ein kleines bisschen Statistik;
Evtl. ein paar ausgewählte Buttons;
Evtl. eine (stark reduzierte) reduzierte Tag Cloud (oder etwas weniger reduziert im Fußbereich wie bei mir).
Wonach gucke ich so gut wie nie in den Blogs?
Kalender;
Buttons, wenn sie zu zahlreich sind;
Die neuesten Trackbacks/Pingbacks;
Werbung;
"Meta"-Bereich (Login etc.).
Ich ergänze noch einen Tip/Gedanken zu etwas, was ich an sich zwar gern anschaue, aber für Suchmaschinen-Besucher nicht für sinnvoll halte: die Anzeige der letzten Suchbegriffe in der Sidebar. Denn dadurch tauchen in den Suchmaschinen-Ergebnissen ggf. auch Seiten auf, die nichts mit dem Gesuchten zu tun haben – deshalb finde ich sie besser auf einer separaten Seite mit "noindex" aufgehoben.
So, das war's. Mal sehen, was ich aus den Ergebnissen der Blog-Parade für meine Sidebar verwerten kann – und wie gesagt, konkrete Vorschläge, z.B. zur Umsortierung, sind durchaus willkommen. Bedeutet ja nicht, dass ich sie umsetzen muss…

---
* Ich bin mal einem Blog mit über 230 solcherart aufgelisteten Kategorien begegnet.
** Dasselbe Blog hat auch eine solche Monatsliste seit 2002…
A German blog carnival about books on your nightstand…
Textworker veranstaltet eine Blog-Parade zum Thema Lektüre auf dem Nachttisch – nette Idee, finde ich, da muss ich einfach mitmachen.

Nun gut, so viele wie bei Julia sind's bei mir nicht, da würde mein Nachtkasterl wahrscheinlich zusammenbrechen. Und nein, das alte Buch rechts gehört nicht dazu.
Textworker möchte wissen:
Wie viele Bücher warten darauf, endlich fertig gelesen zu werden?
Direkt auf dem Nachttisch sind das: (a) Unweaving the Rainbow von Richard Dawkins; (b) Vampire Stories by Women (34 Kurzgeschichten, liegt schon "ewig" da); (c) ein Sudoku-Heft von Puzzler; und daneben steht, der Größe wegen, (d) Band XXVIII der Carl Barks Collection. Immer wieder findet sich auch eine Ausgabe von (e) Spektrum oder Bild der Wissenschaft, aktuell liegen die aber im Wohnzimmer.
Was schätzt du an den Büchern, die auf dem Nachttischchen liegen?
(a) befasst sich schön mit dem Thema "Science, Delusion and the Appetite for Wonder"; (b) ist immer wieder für eine kurzen Biss in den Nacken gut ; (c) bringt etwas Denkarbeit als Abwechslung (und die Rätsel von Puzzler sind auch "schön"); (d) muss man zum Gesamtwerk des größten Donald-Duck-Zeichners noch was sagen?; (e) bietet eben aktuelle Artikel aus allen Bereichen der Wissenschaft, die auch meist für "interessierte Laien" verständlich sind.
Welche der Bücher, die du noch fertig lesen willst, empfiehlst du, auch zu lesen?
Alle. (c) allerdings nicht, nachdem ich damit fertig bin, denn gelöste Rätsel sind irgendwie langweilig…
Was wird das nächste Buch auf dem Nachttisch?
Ich hab noch im Regal einige Krimi- und Grusel-Kurzgeschichten-Sammlungen stehen, außerdem zwei Krimis von Ruth Rendell und ein Buch von Dean Koontz. Aber ich hab auch noch ein paar der Wissenschaftszeitschriften aufzuholen…
Was für Bücher liest du sonst so, die du empfehlen willst?
Wissenschaftlich gefallen mir die von Brian Greene und Lisa Randall zu kosmologischen Themen; unterhaltend auf jeden Fall Terry Pratchett mit seinen Scheibenwelt-Romanen, Kathy Reichs schreibt auch ganz nette Krimis – vgl. die Fernsehserie "Bones" –, und das eine oder andere von Stephen King hat ja wohl eh jeder, oder?
---