»
more content in German | mehr Inhalt auf deutsch

Tag Archives:
buildings
The topic of week 10 in Sari's photo Projekt 52:
Architecture
Well, Pfaffenhofen doesn't have that many eye-catching modern architecture, the main square (which has some nice old-style buildings, including the town hall) are a big construction site right now, and I didn't want to take some photos from the archive such as the Neue Messe Stuttgart (whose parking garage I had used for a picture riddle) or the new shopping mall in Heilbronn which was almost finished last Christmas.
So I chose these two pictures:
The topic for week 4 for Sari's Projekt 52 (German):
Contemporary witness (expressly not necessarily a person).
Easy for me to find a motif, just get on my balcony and I had my constructural contemporary witness:
Of course I modified the colors a little…
Aaaahh! A few days ago, it appeared for the first time, this *gulp* horrid monster with its glowing eyes and the *shiver* terrible mouth! And almost every evening it briefly looks around. It will surely catch me on Halloween! *shriek*
Look at this sh- shocking photo: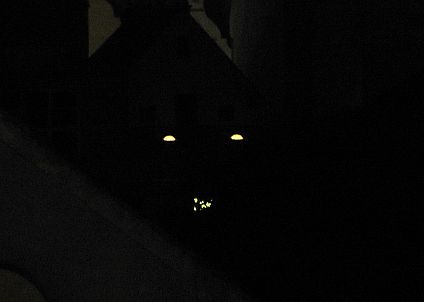 Mommyyyyy!
These eyes… and that mouth… *whimper*
My worst nightmares…
It looks – I don't dare to say it – it looks like… like…