»
more content in German | mehr Inhalt auf deutsch

Tag Archives:
concerts
This week's Projekt 52 topic is "Wahnsinn" = madness/insanity/frenzy…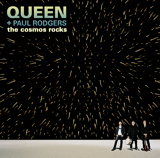 Last night the rest of Queen with Paul Rodgers were in the Olympiahalle in Munich as part of their "The Cosmos Rocks" tour – and a couple of fans including myself were there, too,1 and they were in for a great rock concert in which a few old men could show that they still got what it takes.
The stage, by the way, contained a nice video wall showing some animations as well as Freddie Mercury who thus sung Bijou and Bohemian Rhapsody, a smal stage (almost) in the middle of the arena, Oktoberfest hats and accordion for 39, and the guys really seemed to enjoy singing and playing – and (which some folks were searching for here) without support group, the Queen rest + Paul Rodgers (plus Spike Edney, Jamie Moses and Danny Miranda) managed it on their own to rock from approx. 20:15 to 22:30.
Set list (hopefully without mistakes, but no guarantee):
Intro
Surf's Up… School's Out! (from the new album)
Tie Your Mother Down
Fat Bottom Girls
Another One Bites The Dust
I Want It All
I Want To Break Free
C-lebrity (from the new album)
Seagull (Paul solo; song by Bad Company)
Love Of My Life (Brian + audience)
39 (acoustic, with Oktoberfest hats…)
Drum solo (Roger, starting with some bass percussion (or whatever you may call it: playing with drumsticks on a contrabass), then on a drum set that was extended one part after another, on the front stage)
I'm In Love With My Car (Roger sings)
A Kind Of Magic (Roger sings)
Say It's Not True (first Roger, then Brian, then Paul came back)
Bad Company (song by Bad Company (duh))
Feel Like Makin' Love (song by Bad Company)
Guitar solo
Bijou (with Freddie shown on screen, singing)
Last Horizon
Radio Ga Ga
Crazy Little Thing Called Love
The Show Must Go On
Bohemian Rhapsody (with Freddie shown on screen, singing)
Cosmos Rockin' (from the new album; start of the encore, as planned, of course)
All Right Now (song by Free)
We Will Rock You
We Are The Champions
God Save The Queen

---
Image (album cover) from queenonline.com.
---
according to Rockantenne, it was one of the two fastest sold-out concerts this year [↩]
Quote of the evening
"Of course we play an encore."

Klaus Doldinger at tonight's great (and free) open air concert with Passport in Pfaffenhofen. The nearly 2 hours seemed rather short, somehow…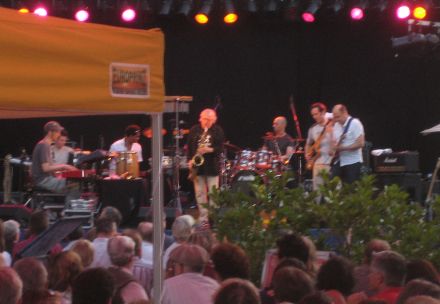 (My old pocket cam isn't that great when it's getting dark…)
The best(?) place for a mosquito
Directly on the notebook screen where you can easily see and kill it.
Compact and light but needs getting used to
…is such a EeePC 900 on which I'm writing this now – with < > as secondary function on the Y key (which is on German keyboards where the Z is on Englisch ones) and the number keys moved to the left…
…that'd be a German translation of "Black Label Society", the opening band for Ozzy Osbourne yesterday. And also this hard of hearing guy – "I can't fucking hear you!"

– in his late fifties can do a great concert! It was just relatively short – he seemed to have had a comparatively bad day, an "Ozzy expert" next to me said. Others, however, have a different opinion about his mood… Which doesn't change anything about how good it was!

Apropos opening band: There's something strange about the starting time. At Meat Loaf Sunday before last, the official start was at 20:00 (8 p.m.), but at 19:30 entered Marion Raven as "opening duo" (i.e. with one other musician) with guitars and keyboard for about 25 minutes, and since there was no reconstruction necessary, everyone thought Meat would start punctually at 8 – wrong, he waited until 20:30 (and stayed until 23:02).
Yesterday, however – official start was also 20:00 – the openers came at 19:50 and rocked until 20:40, and after reconstruction and sound check, Ozzy entered the stage after a lament of Beuern intro at exactly 21:00. (And, as indicated, just until ca. 22:35.)
Now what does that tell us about the meaning of starting times…?