»
more content in German | mehr Inhalt auf deutsch

Tag Archives:
jubilee
ફારોખ બલ્સારા, i.e. Farrokh Bulsara, i.e. Freddie Mercury, would have turned 65 today…
Also, he died (nearly) 20 years ago, and it's Queen's official 40th anniversary this year. Hence here's a song from 1971: Liar – in the De Lane Lea Studios demo version from December, which is also available as remastered bonus on the (yet again) re-released albums this year (but since YouTube only has a somewhat inferior older version, I have to use Grooveshark here):
And since it'd look a bit too dry here without a video, here's a fan video1 for Mother Love – the song that includes Freddies last ever vocal performance:
Also, Google got a great doodle today: an animated video for a shortened version of Don't Stop Me Now.
---
because apparently there's just one of these, erm, arty but silly "The Films" videos without Queen in them as official video… [↩]
First, here's "1999″ by Prince because this is the 1999th post in my blog (including many German-only posts, that is):
But don't worry, "two thousand zero zero, party over" won't apply to my blog.

And like the first song where I use a date for something else, I'm not using the second song to refer to the mentioned year (in more than one century, in this case) – but in this case to the age I've reached today: "'39″ by Queen in a 1979 live version:
…in a live version with an unusual intro (watch in HD on YouTube):
Well, it was the 40th anniversary of the Montreux Jazz Festival… Why song of the day? Because it was on 4 Dec 1971 that the Montreux casino burned down, an this was what inspired Deep Purple to write Smoke On The Water.
For this occasion, they also had neon letters and the famous chords on the wall beneath the marché couvert in 2006 – when I was there for the Freddie Mercury memorial day, my old small camera, however, wasn't able to make a proper photo (which I unfortunately noticed too late):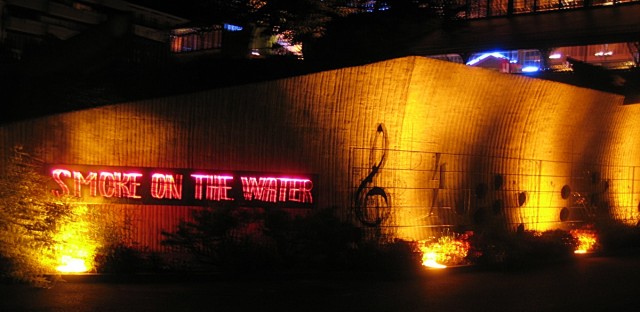 Someone got a better photo on Flickr.
Today is Freddie Mercury's 64th birthday – since 64 = 26, here's the 6th song, "Ogre Battle", from the 2nd Queen album, "Queen II", but in an alternative version:
Then we take the 64th song from the original studio albums (no bonus tracks, no singles B-sides, and hoping I counted correctly): "Who Needs You"1 from the "News Of The World" album:
Update: I miscounted after all, "Who Needs You" is song # 65. But since # 64 is sung by Brian, it's a good choice anyway.

---
but don't take the title personally! [↩]