My two-hour internet access malfunction is hopefully over for good, so: Welcome to the latest picture riddle music quiz!
1. Which song title is displayed here?
Gelöst von Julia: "Unforgiven" von Metallica (Video) – UN-four five give-n.
---
2. Welcher Liedtitel ist das? (Und von wem?)
Auch gelöst von Julia: "Can The Can" von Suzie Quattro (Video) – eine Dose in eine Dose hinein.
---
3. Und das?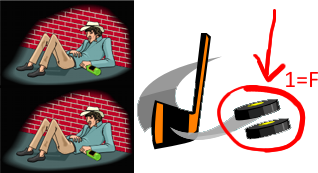 Auch gelöst von Julia: "Too Drunk Too Fuck", ein Song von den Dead Kennedys (Video); der aktuelle Song von Buckcherry, über den ich auf die Idee gekommen bin, heißt offiziell nur "Too Drunk…" (Video) – zwei Betrunkene, zwei Pucks → fuck.
---
4. Und welches Lied ist das?

Gelöst von Yjgalla: "I'm A Believer" von The Monkees (Video) – Eimer bee liver.
---
Das war's schon für heute, danke fürs Mitmachen und bis nächsten Dienstag…