»
more content in German | mehr Inhalt auf deutsch

Tag Archives:
buildings
Alright, this is the last photo series from my Montreux holiday, a mixture of various topics.
Your reaction?
Well, it was just about right. (67%, 2 Votes)
That's a pity. (33%, 1 Votes)
Yeah, finally over! (0%, 0 Votes)
Total Voters: 3

Loading ...
A look at the sky shows more cloud formations, a parhelion and a steaming sail boat:

When sunny skies break through behind the clouds
I wish it could last forever…

A fork in the lake (thought these things only exist in roads…) in Vevey, in front of the Alimentarium, a food museum:
A few buildings: My hotel, the Eden Palace au Lac, and the restaurant Le Palais Oriental:
The Montreux Palace and the Grand Hotel:
Congress center with Auditorium Stravinski and the old market hall:
Through the old town, we reach a church, the late gothic Temple St-Vincent:
From its terrace we have a nice view of the lake and parts of the city:
Now quickly a few animals who also seem to enjoy the sun…
…before we say farewell with a postcard view: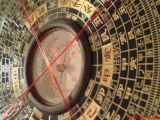 …"of course" also contains in Pfaffenhofen a few, how should I say, scientifically and by common sense not really kosher topics.
For instance, there are four Feng Shui courses – before we'll have a closer look at these, here's a quick quiz (please don't cheat by looking at the course links below):
Which categories are these Feng Shui courses offered in?
Science and technology (50%, 1 Votes)
Medical topics - natural healing (50%, 1 Votes)
Psychology (0%, 0 Votes)
Ecology (0%, 0 Votes)
Hobby & co. (0%, 0 Votes)
Health forum (0%, 0 Votes)
Total Voters: 2

Loading ...
Update: Not too many voters… well, they use the category ecology! (Probably because the first Fen Shui course they ever offered had been for the garden.)
The offered classes (everything in my translation):
These fees are quite low – since the adult education center (VHS) offers this mystic-laden hodgepodge – with scientifically untenable "cosmic energies" and other stuff – the two "counselors" who lead the classes (one the first, another the other three) will reach potential new customers this way who quite probably are willing to pay more money later on – for instance, two-digit square meter proces for the rooms to be examined. Lacking experience, I can't say anything about the prices and respectability of these two providers, of course.
In the sleep course you learn, among other things (my translation):
From the feng shui point of view, [bad sleep] can be caused, among other things, by bad placement of the bed, sharp edges, skewness, wrong material, electric smog, too screaming colors, water veins or other geopathic disturbance zones.
Hey, if I lie on sharp edges or a skewed stone bed, I need no feng shui to know it's uncomfortable and bad for sleeping!

Of course they also include that balderdash about disturbing water veins and "geopathic disturbance zones" (great words – just let some dowser, energy-with-hand-senser or I-see-all-energetic-problems-jabberer walk through your house, he'll always find (or rather make up) something that he can sell a solution for or at least "justify" his counselling fees).
I just don't get how the "ancient masters" (mentioned in the 1st yourse) could have included electric smog in their teachings…
Of course there's more:
Introduction to Applied Kinesiology (25€, 1 day):
Kinesiology perceives the person holistically. Using the muscle test (biofeedback to the body and subconcious), you can see what weakens your body (=drains enery) or strengthens it.
And here it applies, too: Once the patients are hooked on it, they are likely to pay more – maybe even enormous amounts for a placebo effect, some minor movement exercises and for a "muscle test" that's unsuitable for any pretended diagnostic purposes. (» SkepDic).
Seeing all these, shamanistic round dances and meditation drumming (offered too, of course) are quite harmless and entertaining, even fun…
---
Photos: Luopan compass musicvisionary2000 / flickr, woman with sign (original) cooljinny / sxc, Chinese characters from Wikipedia
The Chillon Castle (Château de Chillon) is located on the shore of Lake Geneva near Montreux, Switzerland. The castle consists of 25 independent buildings that were gradually connected and now form a single whole.

The oldest parts of the castle have not been definitively dated, but the first written record of the castle is in 1160 or 1005.
And since then, there have been many additions and reconstructions on this Château de Chillon (official site) that's the topic of today's photo collection.
As with the flowers yesterday, you can also view all the photos in the Flickr set in the same medium size (and click to get the large size, of course), whereas I'm using different sizes here and add a few words, too. If it's too much at once, if you'd prefer more small thumbnails or, on the contrary, more larger photos, please speak up…
After the wide-angle view above, let's have a look from northwest and southeast:
And now with a ship in the front – and the ugly stilted highway in the back; as well as from 300m higher and with maximum tele zoom (and post-processing to remove the haze):
Let's get inside – across the bridge that replaced the drawbridge in the 18th century:
A few looks into and from the courts (not in the order of the tour):
The gothic cellar vault, part-time jail, and a cellar with a small opening in the top:
There was a photo exhibition in the coat of arms hall, and I was glad I had that wide-angle lens in the chapel:
State-of-the-art cooking equipment and the latest in men's fashion can also be found in the castle:
On the left a mechanism for the drawbridge or the gate, on the right the view tall people like me (1.90m = 6 ft 3 in) get in many places without bending down:
A bed, a chair that doesn't look very comfortable, and a 15th century coffered ceiling:
An old wall painting, a barred passageway, and a crenel made for firearms:
Two pictures combined with HDR tone mapping (which I have yet to practice…) from photos with varying exposure:
And at the end panoramic views from the keep, the highest tower, to the northwest and southeast – and downwards: