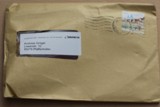 Oh, a thick envelope from an unknown sender in my mailbox – with something inside feeling like make of plastic with a valve to inflate it. Is that yet another marketing gag with more or less useful objects (we remember the razor/discount cellphone/toothbrush parcel campaign for something by Tchibo, later seized by others), with the sender hoping that as many blogs as possible mention it? Shall we really do them this favor?
Now who is the sender? Aha, a web hoster I didn't know yet. (So one goal accomplished…) With 100% in customer ratings at Webhostlist. Well, my hoster, all-inkl.com [affiliate link], got 100% too.

But of course wo open this envelope, curious as we are. What is appearing? A red and transparent inflatable beach ball with the hoster's web address on it. So certainly no mysterious deeper meanings involved.
Of course I'm not the only recipient: MoehBlog, Blogspan, NetzNews (all German), and who knows who else may follow…
The way the valve is looking at us…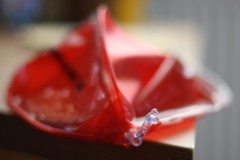 …it's right, flat like that, no ball looks good. So take a deep breath… … … and get up (it's hot here!), fetch the balloon pump from the cabinet, and: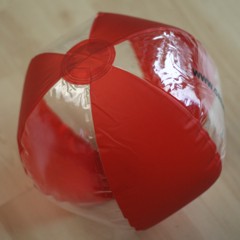 …it really looks better this way.
Better than the accompanying ad banner on their website:

Which translates to: "Promotion offer! / You save up to / On all webspace packages / 0€ setup fee".
"Save up to" how much? Up to 0 € setup fee? (And yes, it was a static image, no animated one that might show the sum later on.) Maybe they should work on that banner… Update 10:20 pm: The did, as I just noticed: "up to 50%".
Well, thanks for the ball and for giving me another topic for a blog post.