Konna published his comment statistics and thoughts (German) on Thursday – and I thought I could present a few numbers, too.
Now my blog can't keep up with his regarding the number of comments1, but anyway: There are 3723 entries stored in the comment database that are not spam – including
2039 real visitor comments (including 46 anonymous2),
435 trackbacks/pingbacks,
that's a total of 2474;
1249 comments by me.
Like Konna, I'll now look at the distribution between men ("Männer" in the graphics) and women ("Frauen") who gave at least five comments – left: commentators, right: comments:

37 men (64.9%) wrote 995 comments (60.9%), that's an average of 26.9. And 20 women (35.1%) wrote a total of 640 comments (39.1%), average 32.
We see: More men wrote more comments in total, but each woman wrote more than each man.
The Top 10: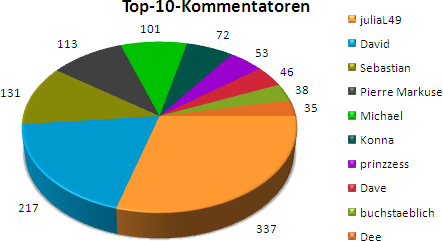 Funny that Konna is here at position 6 just as I am at his.

In total, there were 78.4 comments per month (or 95.2 if I include trackbacks like Konna did) and 2.6 (or 3.1) per day – however, there wasn't much going on in the first three quarters (including posts). So there were 1920 comments (94.2%!) in the past 12 months (160.0 per month, 5.2 per day; or 2289 incl. trackbacks, 190.8/month, 6.3/day) – and only 119 in the 14 months before that!
A great "commentator magnet" is, of course, my music quiz – if I ignore its 35 posts, there are only 1393 comments (without trackbacks) since the start of my blog, i.e. 53.6 per month and 1.8 per day, or 1274 in the past 12 months, i.e. 106.2 per month and 3.5 per day. (And since there are noticebly more men than woman, this explains the entire men/woman distribution.)
Still better than the average of all blogs registered at Blogoscoop – which is below 1 comment per day including those from the blog's owners –, but there's still room for improvement – so get writing!

---
For those who are interested: Show the SQL queries used here. ▼
but then, my pie charts are prettier ;) [↩]
since I don't require name and/or email when commenting [↩]