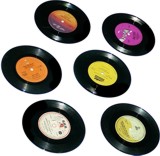 A special edition of my little series of B-sides and album songs by Queen, this time not on the anniversary of a release, but of the contents of a song from their first album (1973), "Great King Rat":
Great King Rat died today
Born on the twenty first of May
Died syphillis forty four on his birthday
Every second word he swore
Yes he was the son of a whore
Always wanted by the law
As the English Wikipedia puts it, this song (written by Freddie) is an example of Queen's earliest sound, with lengthy, heavy compositions with long guitar solos and sudden tempo changes. The German says (translated):
The idiosyncratic beat of drummer Roger Taylor seems to imitate a galopping horse, while May and Mercury are duelling with guitar and vocal melodies.
Nice description.

So enjoy:
» Album version
» BBC version from the Langham studios (Dec 1973)
» 1971 demo from the De Lane Lea Studios
» Live version from Japan, 1975
» Lyric
(All videos only show still images.)
---
Photo: clix/sxc