Nächster Abschnitt im Lego-Adventskalender-Triple-Threat-Match! Wir erinnern uns: es stand 3½:5:3 (City:Friends:Star Wars).
Tag 12: Ein Bäumchen, Geschenke und wieder was Fliegendes, das wir fallen lassen können (da "Republic Dropship"

):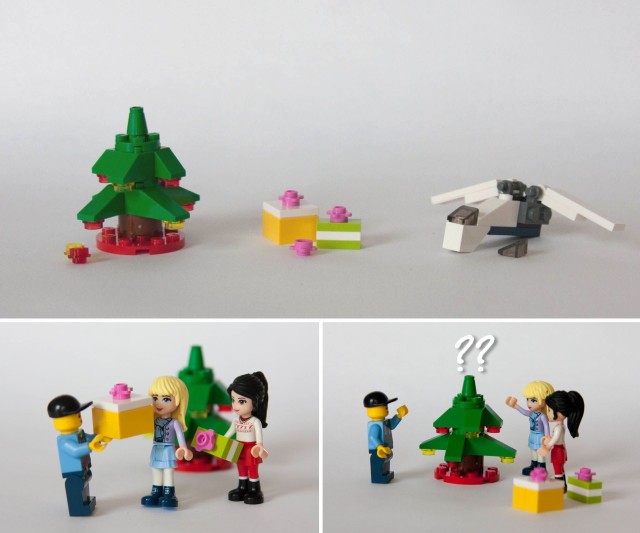 Da fehlt ja eine Spitze für den Baum! Nein, so kann ich keine Punkte vergeben…
Tag 13: Everybody wants to be an astronaut…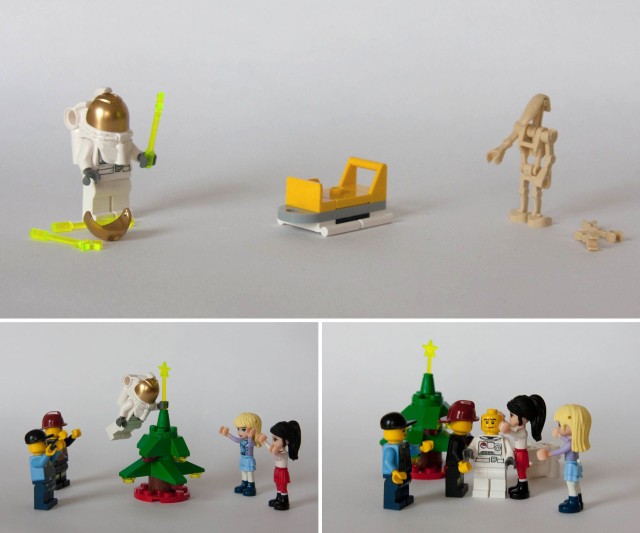 …and take the long tall trail to the Baumspitze!1 4½:5:3. Schlitten und Kampfdroide können da nichts ausrichten.
Tag 14: Größere Geschenke, ein Springbrunnen (im Winter??) und von Geonosis ein, äh…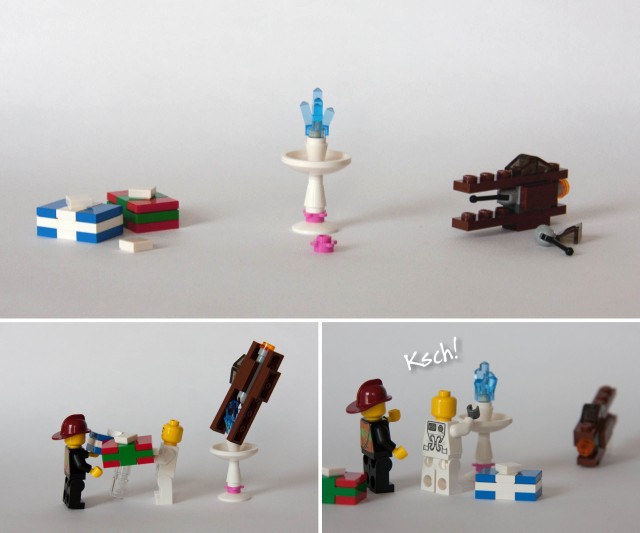 …lästiges durstiges Insekt. Für dessen Verscheuchen geb ich City einen halben Punkt: 5:5:3.
Tag 15: Automechaniker mit einer halben Werkstatt an Extrateilen, ein Bänkchen und ein Geonosianer:
Der kam wohl seinem Insekt hinterher. Da das schon weg ist, hilft er dem Mechaniker beim Zerlegen des Droiden. Aber wie verteil ich da die Punkte? Ach, ganz willkürlich: einen halben für Friends für die Bank, auf der sich die beiden nach getaner Arbeit ausruhen können: 5:5½:3.
Tag 16: Mehr für Autobastler, ein beblümtes Stück Boden mit Schlittschuhen und ein angeblich geonosianisches Waffendepot (mit dem das Droidenzerlegen wohl schneller gegangen wäre):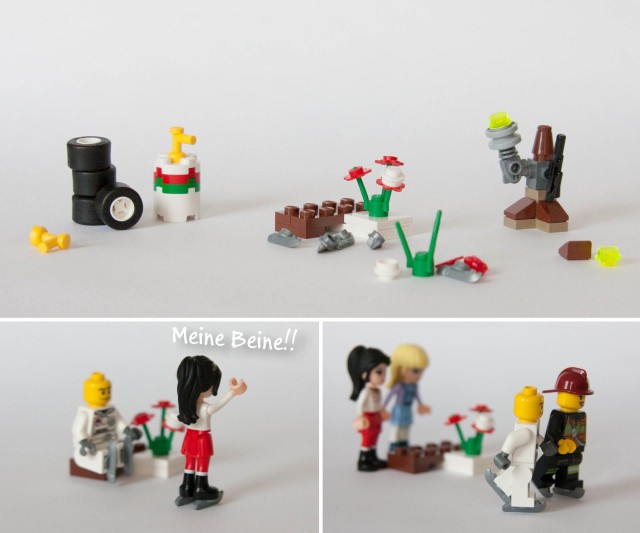 Also ein Punkt für Friends für die Schlittschuhe, einen Punkt Abzug für Friends, weil die Minidolls sie mangels Bein-Beweglichkeit nicht verwenden können, und damit ein Punkt für City als Sieger des Tages: 6:5½:3.
In ein paar Tagen geht's natürlich weiter…
in Anlehnung an "Everybody Wants To Be An Astronaut" von Royal Republic [↩]