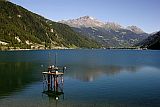 As indicated here ("Electricity tariff increase", 15 Oct), my electricity will soon come no longer from the normal local provider E.ON Bayern, but instead (due to the cancellation period, starting 1 Jan; cancellation confirmation arrived today) from Trianel – and then "naturally" the "eco" way.
Costs a tiny bit more than the standard electricity (85% non-regenerative) at current tariff, but noticeable less than at the future tariff (after the announced increase from 1 Jan 2008). And even less than E.ON's eco electricity.
So my juice will then – don't let beverage testers hear that! – come to 84% from the water of Lago di Poschiavo (photo from picswiss.ch) and the rest from other water, wind, biomass and a touch of solar energy.
Of course the best electricity is still that which is not consumed needlessly (e.g. standby)…