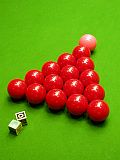 The World Snooker Championship starts tomorrow – and even though I won't be able to watch all 120+ hours Eurosport wants to broadcast live, I'm looking forward to the next 17 days, until the final on May 4 and 5.
» Times on Eurosport (German)
» Matches listed by day
» Drawsheet of all matches
Will John Higgins, "The Wizard of Wishaw" – in the official world ranking list (as of before the season) on number 1, in the provisional ranking (as of before this championship) down to 5 –, be able to defend his title in the Crucible Theatre in Sheffield? Or will one of the other 15 Englishmen, 4 Scots, 3 Welshmen, 3 Northern Irishmen, 2 Irishmen, 4 Chinese and 1 Australian be victorious?
We shall see – it will certainly be entertaining to watch the 368 to 705 frames to be played in 31 matches with many top players and not least thanks to the highly valued German commentator Rolf Kalb.
» The Snookerblog (German) has a few players' opinions before the start of the championship.
Statistics nobody(?) needs: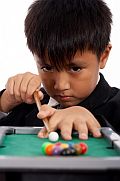 Youngest player (no, not the one on the photo) is the Chinese Liu Chuang, he turns 18 in June, is on the Main Tour since the start of this season and on no. 91 of the provisional ranking, oldest is Steve Davis (50), down from 15 to 27 in the provisional rankings. The average participant is born on 31 Aug 1976, thus over 31½ years old, and turned pro with about 18 years.
All 32 together combine 434 years of pro experience, 13.6 years in average; record holder is Steve Davis with 30 years. The average official world ranking position is 17.9*, provisional 18.6* or 20.9, respecively.
In the previous season, the average prize money a player won on official tournaments was £87,051* (ca. 109,000€) with a range of £6,830* to £288,500 (8,500€ to 360,000€), in the entire pro careers before the start of the season 2007/2008 £1,529,350* (ca. 1,900,000€) or £90,620* (113,000€) per year – record holder is Stephen Hendry with £8,257,210 (10,270,000€) in 23 years or £359,009 (446,000€) per year. Plus, of course, earnings from sponsors and other advertising.
* Excluding the newcomer Liu Chuang.
---
The statistics – no guarantee – are based on the data from the World Snooker Association.
Photo of the boy with mini billiards © Stuart Miles – Fotolia.com