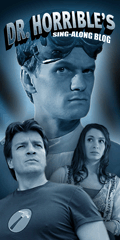 Joss Whedon – yes, that Joss Whedon of Buffy and Firefly fame – just released the first of three acts of his low-budget interim project (during the writers' strike in Hollywood), a supervillain musical called "Dr. Horrible's Sing-Along Blog" online.
That musical is, of course, meant anything but serious and is poking fun at quite a lot – and that's not the only reason why you can't actually compare it to "Once More With Feeling", the Buffy musical episode – and worth a look at any rate! (Even though you may wonder at the beginning whether it will go on like that the entire time.)
So watch it quickly, for Dr. Horrible is scheduled to disappear again on Sunday night already (and be available for money later on), after act II and III are released on July 17 and 19, respectively.
(via Golem)