On the Sunday of my Montreux holiday I went to Vevey, the city next to Montreux, because firstly, I expected better weather there, and secondly for the large flea market there (always an invitation to stroll around).
Quite a strong wind was blowing that day – wind and kite surfers probably liked it…
…and the waves could let off some steam, too: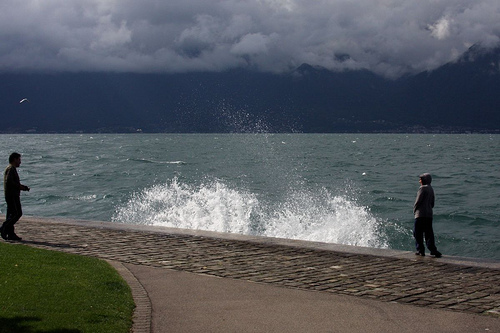 And since these photos can easily be made to match this week's topic of Projekt 52, "Poem interpretation" – a poem for a photo or a photo for a poem –, I'm using especially the last of the images above for this project, in combination with the poem "An den Mistral" (="To the Mistral")1 by Friedrich Wilhelm Nietzsche (see here in Projekt Gutenberg for its text – in German, of course).
Now let's continue with the photos. In Vevey, I happened to come accross the final part of the Triathlon de la Riviera:
Participants, if you don't want to see your photo here, just drop me a line.
And on the way back, there was a jet ski race at Clarens: