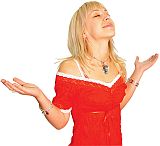 My visit to a mysticism trade fair was quite some time ago – somehow I was (or am?) a little out of ideas in this regard… anyway, here's a little slagging exchage of the clairvoyant truth, or something like that. (Note that all quotations are my translations from the German originals.)
Did you ever ask yourself:
"Clairvoyance – what is that?"
Thus also the title of a leaflet that was available at the fair. The answer:
Clairvoyance is having the picture that corresponds to the truth!

Pictures from the past, the present and the future, for oneself and also for others.
And what's convenient about that: The clairvoyants define their own truth! And if that wasn't enough: They also paint their own pictures of it for themselves (and their customers)! I really got the wrong job…
But how to reach truth? Who can show the way? Is it the…
"Gate of Love"?
Subtitle: "Love – Light – Unity". It continues (in the web):
You don't need to become anything – because you are everything.
You don't need to search anything – because you have everything.
You are what you are: EVERYTHING
But what is the lady trying to sell, then? Isn't that a little counterproductive?
I accompany you full of love in getting conscious about your eternal truth:
Everything is forever perfect in you.
Oh, company. Won't be a typical escort service, I guess… But anyway, why accompany me if I'm everything already anyway and don't need to find anything, got no path I must go? Hence don't need a sign-post:
Joy be your sign-post.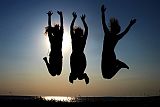 The joy of having found yet another escape route from reality? The joy of the provider to have convinced another customer and/or see his/her bank account grow bigger?
The sign-post saying is from the leaflet, by the way, which shows such sayings for several categories of offers along with their descriptions which I left out here.
Aura reading and cleansing … If your light fills the entire room, nothing can manipulate you.
But somehow those mysticism providers always find a shadowy corner.
Rainbow massage … Let yourself be touched inside, so you will be carried by the light of love.
Hey, that sounds interesting. But am I the only one who sees double meanings here – I mean, this sentence at a massage, that really makes one think about, erm, services where the name "massage studio" is just pretextual, doesn't it?
Systematic constellations … Everything is connected with everything, love is the connecting power.
Or everything is gone from the bank account, money is the disappearing power.
Channeled meditation evening … The new earth blossoms from the dreams of your heart.
Rather in than from the dreams – now in winter, neither on old nor on new earth will be any blossoms.
Energetic cleansing and clearing of home and working place
I really don't need that one, I can turn off my electric energy myself.
A power place is a place where love, beauty and harmony left their traces.
(Distance cleansing also possible)
And a fighting place is a place where hate, beating and harming left their traces. (Just cleansing at a distance will be hard.) But what does this have to do with my being EVERYTHING already? And if I'm EVERYTHING already, then I'm the following, too:
"Union of male and female – The unity in human-being"
Either it's the (unintentional?) ambiguities that won't stop here (like this one on one of the cheap colored slips that were inside the professional-looking leaflet), or it's just my always dirty mind. But no, it's supposed to be "fulfilling for couples and singles alike", and "there will be no sexual acts since it's about an inner working". Aawwwww…
This seminar is inspired by Jesus and Mary Magdalene who speak and work through me. Jesus and Mary Magdalene are light-beings who have completed this union of male and female.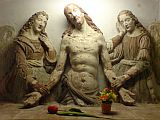 Oh, so we're a self-proclaimed prophet or channel for divine powers now, too. Sure, don't miss a thing. And what does the old Bavarian feller in Rome think about that? Even if the girl from Magdala doesn't have the bad reputation she had in earlier times – but a being of light?? Hmm, could the Vatican – and all churches, for that matter – save on energy costs for lighting if this light-being thing gets around? Just put up a few Jesus and Magdalene statues, they glow on their own!
(Or did I misunderstand something here?)
But it's not just light and man+woman – we need some healing, too, of course:
"Healing power of the Divine – How Jesus was working"
In this seminar, we receive inductions into the healing power from the fount of unity.
What did these providers do when the DDR (East Germany) still existed, i.e. before the German reunification, anyway?
He will speak and work through me in multiple meditations and inductions, when the energy of the healing power will come alive in you. […]
Your healing is the acknowledgment of the truth!
Oh, yes, the beloved truth. And if someone gets well after such a meditation evening, but not because of it? What's the truth then? Ah, forget it, in those cricles nobody will regard subtleties like this.
Now the quiz at the end: What do you call the costs and seminar fees if it is to sound more selfless? Exactly:
"Exchange"
E.g. an exchange of 30/60/90€ for 30/60/90 minutes of massage or session, 150€ for a weekend seminar – which of course "will be enhanced more and more over several weekends" – or just only 15€ for an introductory meditation evening with "healing circle". Actually, "exchange" is quite a good term for it – not just from the provider's point of view who is soooooo generous and wants to enrich us that much spiritually –, because folks will exchange a part of his or her sanity and reason for yet another phantasy.
And for mystic phantasies, it seems, the sky's the limit…
---
Photos: Rissmu/sxc, lusi/sxc, franckb/sxc