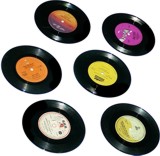 Another edition of this little series about the B-sides of Queen singles, this time "'39" on the single "You're My Best Friend" from 18 May 1976 from the A Night At The Opera album.
The A-side is a soft song written by bassist John Deacon for his wife (they're still married) on which he plays a Wurlitzer electrical piano.
The B-side, too, is a quiet piece, featuring acoustic guitars and Brian May, who wrote this little science fiction story, singing himself – and it happens to be the 39th song on Queen albums. Brian describes it like this:
It's a science fiction story. It's the story about someone who goes away and leaves his family and… because of the time dilation effect, when you go away, the people on Earth have aged a lot more than he has when he comes home. He's aged a year and they've aged 100 years. So, instead of coming back to his wife, he comes back to his daughter and he can see his wife in his daughter… a strange story.
» "You're My Best Friend" – official video
» lyrics
» "'39" – album version
» "'39" – live version Houston, 1977 (Freddie singing)
» lyrics
---
Photo: clix/sxc