» Click here for all my articles about lotto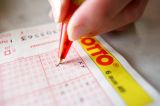 Lotto? Again?? Well, thanks to the high jackpot in Germany, that topic is popular – number 1 also in my search request statistics (after my fun post about certain pantiless antics got kicked out of Google's index [for a few days]). And some enlightenment can't hurt… in brief:
Lotto numbers cannot be predicted!
More precisely: If your predicted numbers are drawn, that's just coincidence, because the drawings are random. Those who claim otherwise, please try to prove it…
I came across another specimen of prognoses on miracles.ch (German) – based on "numerology" (Wikipedia article). Or what's been made to look like it. In addition to horoscope-like spesifications based on date of birth etc. and "lucky numbers" derived from the name you enter (1 for A, 2 for B,… 26 for Z

), this site with a web design from the last millennium also offers a "lotto number prognosis" for German and Swiss lotto. Quote (my translation, trying to reproduce spelling mistakes

):
The Lotto Miracles Predition, is unique and Fantastic. Here you can have your personal and current lottonumber prognosis according to numerology generated every week and again and again new Miracles Lottonumber prognoses for the next Lotto 6/49 drawings.
At least that stuff, unlike the similarly useless Global Scaling prognoses, doesn't cost anything – except time, typing work (and some of your brains), because you should, as the description goes, preferably enter 20 times combinations of three numbers from the previous drawing – the little program is said to take "5-40 seconds" – and then play the numbers that appear most often. Even better, let them run through the "Lotto Tracer" first, which performs numerous random drawings in order to find "the best combinations". As if the drawing balls would listen to the random number generators in web browsers…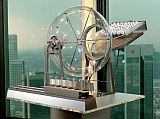 You notice there already that this can't be a professional programmer, since all that combination stuff could be done comfortably with the program… and when you take a closer look at the page and the Javascript program, you also see a lot of trast whose visible components are located on the right hand side outside the little window that's opened by default (when you limit yourself to that); probably relics from the "Tracer" program.
So what does the program do? It calculates six random numbers from 1 to 49, and if three of these are the same as the three you had entered, it stops with a success message – at least on the Internet-Explorer, on Firefox it vividly keeps calculating random numbers and only stops (with totally different numbers, of course), when you close the message window!

Did I already say something about the programmer's abilities?
Wait, simply three more random numbers? But why all the efforts around that? And what about that is numerology??
Well, numerology, as many other pseudosciences, blithely adapts its definitions to whatever's currently useful, so neither these methods nor all that window-dressing around it are really surprising. End result again: Practical use = zero. As if the drawing balls would listen to the random number generators in web browsers…
Into the trash with it.
---
And I like to repeat again: The lotto balls have no memory, the chances for 6 correct numbers are the same for each drawing, 1 : 13,983,816 per tip (and for the main prize, the "super number", the last number of the playing form, must match, too). Beyond statistics, a specific lotto number prognosis is impossible according to all respectable, accepted and verified mathematical knowledge, anyway.
---