The finals! Continuing from 7:8:8½…
Day 22: A christmas tree with colorful lights, a little present box with contents and a christmas astromech.
Who is the taller tree? Hard to see… but "I am!", says the droid, and takes his point: 7:8:9½.
Day 23: A tricycle, a christmas tree with rather monotonously colored decorations and, lo and behold, even the apparently dark side of the force likes open fireplaces.
Mum holds back her son – "No, you mustn't see this already today!" -, while the two Friends engage in a little training fight and Luke relaxes with the book from day 18 at the fireplace. Could this be a hint for future events in the new Star Wars movies…? Anyway: half a point for the nice Star Wars things, 7:8:10.
On day 24, of course, the santas arrive – in the left corner the generic City version, in the right corner a nice Darth Vader, in between a big present with camera and ice skates…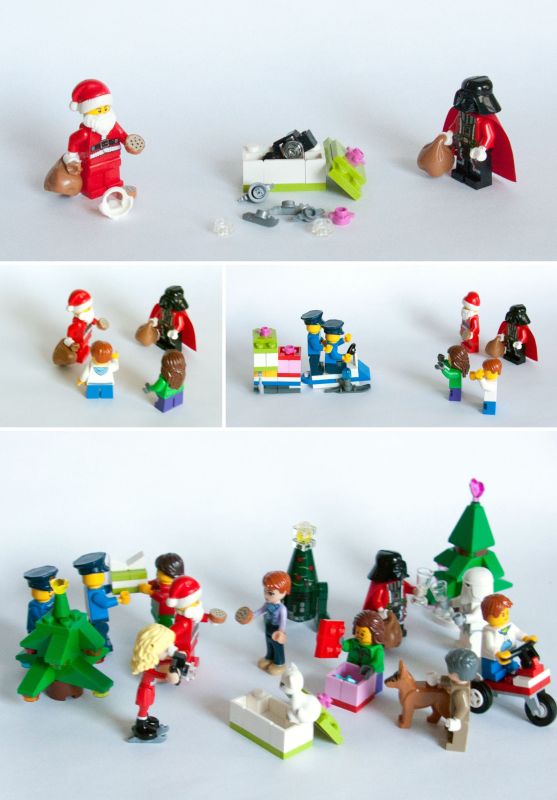 …in the same box! But seeing these many extra skates, they are probably more concerned for these than for the camera. The children are a bit disappointed – "This one only has a small sack and only a few cookies!" – "The other one doesn't even have cookies!" But daddy and colleague are back just in time with the presents!
A cat photo is mandatory – quick, upload it or the Internet dies from being neglected. Cheers! And enjoy cour cookies while they aren't yet prohibited and must be smuggled with great efforts…
Oh, the winner: Daddy and colleage get another point, but this can't take the final victory from Star Wars: 8:8:10.
Happy holidays everyone!