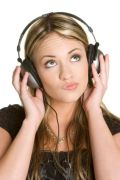 Huch, was, ein Musik-Quiz? Nach vier Jahren Pause? Nun ja, warum nicht.

Eine einmalige(?) Neuauflage kann man ja mal machen – und auch gleich eine etwas längere…
Und wie damals gilt: Jede Zeile des folgenden Gedichts beschreibt ein Lied und die dazugehörige Band, und zwar jede Zeile verschiedene, selbst wenn vom Reim her auch mal zwei Zeilen wie eine gesprochen werden. Die Beschreibung kann sich direkt auf den Titel beziehen oder auch auf bekannte Textstellen oder Eigenschaften der Band. In welcher Reihenfolge innerhalb der jeweiligen Zeile auf Band und Titel hingewiesen wird, schwankt.
(1) Copperfields Dame ist sonntags zur Stelle.
(2) Mittlerweile fast taub, schnell ab in die Hölle
(3) Während das Mädel ins Erzgebirge rennt –
(4) Und wer bin ich denn in Richtung Orient?

(5) Erdoğan wär's gern, aber der hier ist pleite;
(6) Bekenne, und die Arme gehn in die Weite!
(7) Lila ist bald kindisch
(8) und royal verregnet,
(9) Die Schweizer sind dem Feind begegnet.

(10) Regen gibt's auch im Herbst von 'ner seltsamen Kombination,
(11) Und es treffen sich die wahren Krieger jeder Nation.
(12) Die mit der Krone, die ist jetzt auch da,
(13) Ex-Holländer, springt!
(14) O Gott, der taucht ja!

(15) Die Katz' wird ganz fahl –
(16) Die eherne Zahl –
(17) Heym, syßes Heym –
(18) Süßes Kind, du bist mein!
Es handelt sich übrigens um Lieder aus der Welt des Rock, wie ihr euch vielleicht schon gedacht habt, und zwar überwiegend solche, die nicht allzu unbekannt sein dürften.
Wie schon damals üblich dürft ihr in den Kommentaren auch munter drauf los raten und Fragen stellen, und ihr müsst auch nicht alle 18 Lieder auf einmal erraten, schreibt einfach zu den Zeilen etwas, zu denen euch was einfällt. Na dann legt mal los… und hoffentlich ist es nicht zu einfach.

Gelöst wurden:
(1) Uriah Heep – Lady In Black (gelöst von rolak)
(2) AC/DC – Highway to Hell (gelöst von rolak)
(3) Iron Maiden – Run To The Hills (gelöst von Timo)
(6) Creed – With Arms Wide Open (gelöst von Timo)
(7) Deep Purple – Child In Time (gelöst von Yjgalla)
(8) Prince – Purple Rain (gelöst von Timo)
(10) Guns'n'Roses – November Rain (gelöst von rolak)
(11) Manowar – Warriors Of The World United (gelöst von Yjgalla)
(12) Queen – Now I'm Here (gelöst von rolak)
(13) Van Halen – Jump (gelöst von Yjgalla)
(16) Iron Maiden – The Number of the Beast (gelöst von rolak)
(17) Lynyrd Skynyrd – Sweet Home Alabama (gelöst von rolak)
(18) Guns'n'Roses – Sweet Child Of Mine (gelöst von rolak)
Tips, von denen die meisten nicht geholfen haben:
(4) Wenn ihr das jetzt kennen würdet…
(5) Herrschertitel und Bandnamensbedeutung
(9) Altmodisch-geschichtlich
(11) Da steckt auch ein Hinweis aufs Genre drin.
(14) Der Todestag des Sängers jährt sich bald wieder.
(15) Die Katze kommt nicht wörtlich vor, ist aber trotzdem ein Hinweis auf den Bandnamen.
Die restlichen Lösungen:
(4) Head East – If You Knew Me Better
(5) Dire Straits – Sultans Of Swing
(9) Eluveitie – Meet The Enemy
(14) Dio – Holy Diver
(15) Procol Harum – A Whiter Shade of Pale
Danke fürs Mitmachen!
---
Foto: Jason Stitt – Fotolia.com