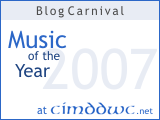 Alright, now I'm conducting a blog carnival (what's that?) of my own – with three little questions about which music you liked best this ending year:
Your song of the year?
Your album of the year?
Your live concert of the year?
(Alternatively, if you weren't at a noteworthy concert: Live album/DVD of the year.)
Preferrably, it should be new releases of 2007, but if you came across something older and like that more than any new stuff, that's also okay.

And I don't mind if you write a little more about your choices, of course, but you don't have to, a simple list is enough.
If you want to participate, write – as usual for blog carnivals – a post on your own blog (you can use the graphic above if you like) and inform me (and the other readers) via trackback/pingback or, if that doesn't work, a manual comment to this post here; the carnival ends on 14 January 2008, and I'll analyze the results afterwards, of course.
I'm curious to see what will be mentioned…
---
My own favorites are:
Song: Within Temptation, "What Have You Done" (feat. Keith Caputo) – that song just rocked this spring.
Album: Ozzy Osbourne, "Black Rain" – in my opinion, an all-around good and, somewhat surprisingly, not at all too soft work from this, erm, strange guy.
Concert: Genesis ("Turn It On Again"-Tour in Munich) – great show, great ol' songs, great evening (after the rain had stopped).