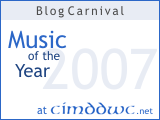 My blog carnival "Music of the Year 2007" is closed – thanks to all 16 participants.

I had asked:
Your song of the year?
Your album of the year?
Your live concert of the year?
(Alternatively, if you weren't at a noteworthy concert: Live album/DVD of the year.)

Preferrably, it should be new releases of 2007, but if you came across something older and like that more than any new stuff, that's also okay.
Quite varying music tastes have shown up – partly even at the same blogger – and even though I personally don't like all of the mentioned music, it was actually interesting to listen to the songs and albums that were mentioned (some linked directly, some via YouTube searches etc.).
I can't really create a hit list – but there were two clear winners:
Timbaland: 3½x with "Apologize" as best song, 1½x "Shock Value" as best album;
Genesis: the "Turn It On Again" tour was mentioned 5x (though not visited 5x).
I might create a special award to send to these two, but I think they'd laugh at me at best.

Following is the alphabetical list of all participants – some mentioned more than one, some runners-up (in fine print, which caused the "half" counts above). On the bloggers' posts (all German), there are sometimes also links to videos or homepages and explanations:
Teilnehmer
Song
Album
Live (Konzert oder DVD)

Alex (Just4Fun)

Die Fantastischen 4: "Einfach sein"
Mika: "Life in Cartoon Motion"
Genesis "Turn It On Again"-Tour (Hamburg)

Andreas (Kännchen-Blog)

Bloc Party: "Flux"
Bad Religion: "New Maps of Hell"
Böhse Onkelz: "Yaya con tioz" (DVD, Lausitzring)

BlogCrunch

89ers: "89ers Boy"
Linkin Park: "Minutes to Midnight"
–
cimddwc
Within Temptation feat. Keith Caputo: "What Have You Done"
Ozzy Osbourne: "Black Rain"
Genesis "Turn It On Again"-Tour (München)
Dany
Linkin Park: "Shadow of the day"
Timbaland: "Apologize"
Unkle Bob: "Swans"
Ingrid Michaelson: "Keep Breathing"
Ich&Ich: "Vom selben Stern"
Grey's Anatomy Soundtrack 3
Timbaland: "Shock Value"
OneRepublic: "Dreaming Out Loud"
–
(wäre gern bei Nelly Furtado gewesen)
David Stingl
Viktoria Tolstoy: "Old and Wise"
Michael Brecker: "Pilgrimage"
Imogen Heap (Berlin)
Direkteingabe
Apparat: "Tel Aviv",
Hot Chip: "No Fit State",
Kinky Justice: "New Day",
Faze Action: "In The Trees" (Carl Craig rmx),
Gui Boratto: "Beautiful Life"
Editors: "An End Has A Start"
Deichkind (Chiemsee Reggae),
Apparat (Nachtdigital),
Editors (Huxleys in Berlin)
Hans
Timbaland feat. OneRepublic: "Apologize"
U2: "Joshua Tree" (dig.rem. 2007)
(hofft auf Genesis-DVD)

i-pigan

Snow Patrol: "Chasing Cars",
Nelly Furtado: "Say It Right",
Timbaland feat. OneRepublic: "Apologize"
Snow Patrol: "Eyes Open"
Genesis "Turn It On Again"-Tour (Frankfurt)
juliaL49
Martin Gallop: "All The Pop Songs In The World"
The Redwalls: "The Redwalls"
Watershed: "Three Chords And A Cloud Of Dust II" (Album)

Konna

Letzte Instanz: "Wir sind allein"
Saltatio Mortis: "Aus der Asche"
Breaking Benjamin: "The Homecoming" (DVD)
Maya (eisitu)
Timbaland feat. OneRepublic: "Apologize"
Amy Winehouse: "Back to Black"
(hätte Genesis interessiert)
Nadine
Die Ärzte: "Junge",
Incubus: "Love Hurts",
Rihanna: "Umbrella"
Timbaland: "Shock Value",
The Killers (eigene Zusammenstellung)
Rock am Ring: Mando Diao, Beatsteaks, Die Ärzte, Sunrise Avenue, Good Charlotte, Linkin Park, Billy Talent, uvm.;
Beatstakes (bei "Das Fest" in Karlsruhe)
Prinzzess
Linkin Park: "Breaking The Habit"
–
–
Sam
Tuomas Holopainen & Marco Hietala (Nightwish): "While Your Lips Are Still Red"
Uniklubi: "Luotisade"
69 Eyes,
Maryslim,
Wednesday13
Stephan A. aus B.
Foo Fighters: "The Pretender"
Seether: "Finding Beauty In Negative Spaces",
Maximo Park: "Our Earthly Pleasures"
Bananafishbones (Reichenbach/Fils)
utele
DJ Ötzi ft.Nik P.: "Ein Stern, der deinen Namen trägt"
Pink Floyd: "Dark Side of the Moon"
Dream Theater (Winterthur),
Carmen (Stuttgarter Oper)