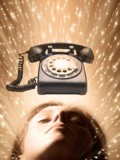 Now is it bad giving your phone number on your blog – not regarding possible legal reasons to do so (which is a bit, well, odd in Germany)? Well, I would miss calls like the one this afternoon – which, on the other hand, I somehowcould do without, too.
A woman who reached my opinion on "Top-level spiritual healing" probably with the search phrase (translated) "do you have to say something specific for spiritual healing ?" called me because she, being a beginner, was interested in an introduction to spiritual healing (she'd even pay for it…) and wasn't sure how that stuff works and if there's anything to it at all. She apparently assumed I'd offer such services and clicked on my contact details right away without reading my post!

Well, at the least this way I could inform her about what that post was there for – to be read, that is –, and direct her to the link tip, the German GWUP page about paramedicine. Maybe, hopefully, she now refrains from her spiritual healing intentions…
---
Speaking of blog-related phone calls: I would have missed a praising call for (if I remember correctly) "Healing with barcodes", too.

---
Photo (without phone): Stas Perov – Fotolia.com