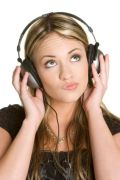 Willkommen zum neuesten Musik-Quiz – heute wieder ein Liedzeilenquiz à la Julia, d.h. es werden ein paar Textzeilen gesucht (und natürlich auch Lied und Künstler), die mit einigen Tips, die ich nacheinander geben werde (im Beitrag und auch kleinere Tips in den Kommentaren), beschrieben werden.
Hoffentlich kommt nicht gleich jemand mit den ersten ein oder zwei Tips drauf…
(Ja, das ist exakt dieselbe Einleitung wie zuvor.)
Beim heute gesuchten Lied, dessen Titel strenggenommen unmöglich auszusprechen wäre, geht's in den gesuchten 4 Zeilen gewissermaßen um eine lange Beeinträchtigung eines Sinnes – und mehr.
(16:20 Uhr) Scheinbar länger als bei Dornröschen.
(16:35) Ein höllischer Film verhalf der Band zum Durchbruch.
(16:50) Wörtlich genommen hat der Titel des zweiten Songs, der mit dem Film zu tun hat, das o.a. Problem des gesuchten Songtitels nicht.
(17:05) Der Bandname besteht aus einem Wort, dessen Anfang aber einem Vornamen gleicht – was dazu geführt hatte, dass der Name mancherorts anfangs entsprechend falsch ("Vorname Nachname") angegeben wurde.
(17:21) Die Band ist zwar noch recht jung, hat aber im Lauf der Zeit schon fast das gesamte Personal ausgetauscht – bis auf die Sängerin.
(17:40) Der Albumtitel sollte mit dem Tonträger nicht zu oft bzw. nicht zu heftig passieren, um Beschädigungen zu vermeiden.
Gelöst von Julia: "Bring Me To Life" von Evanescence (Video; voller Text) vom Album "Fallen" mit den Zeilen:
(All this time, I can't believe I couldn't see
Kept in the dark, but you were there in front of me)
I've been sleeping a thousand years it seems
Got to open my eyes to everything
Streng wörtlich genommen kann natürlich niemand "Mach mich lebendig" sagen… Und der "höllische Film" war die Comic-Verfilmung Daredevil, auf dessen Soundtrack neben "Bring Me To Life" noch "My Immortal" war.
Danke fürs Mitmachen, bis nächsten Dienstag!
---
Foto: Jason Stitt – Fotolia.com