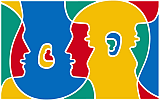 Today is the "European Day of Languages" – and there are many languages. Could you assign all the languages to the countries they are officially used in? Even if it's just a short sentence (see below) each? There's a game (optionally in presentation mode) at the Council of Europe's website where you can assign "Talk to me!" in 39 languages to their respective country or countries. (I admit, though, it was a bit too tedious for me, I didn't play it completely.)
Update 2008: Added language names.
Talk to me! (English)
Parle-moi! (French)
Sprich mit mir! (German)
Parlami! (Italian)
¡Háblame! (Spanish)
Μιληστε μου (Greek)
Runa ar mani! (Latvian)
Spreek met mij! (Dutch)
Räägi minuga! (Estonian)
Vorbeşte-mi! (Romanian)
Parla'm! (Catalan)
Razgovaraj sa mnom! (Croatian)
Зборувај со мене! (Macedonian)
ԽՈՄԻՐ խոսիր ԻՆՁ ՀԵՏ (Armenian)
Говори с мен! (Bulgarian)
Puhu minulle! (Finnish)
Mluv se mnou! (Czech)
Pasikalběkime! (Lithuanian)
Talaðu við mig! (Icelandic)
Flisni me mua! (Albanian)
Mów do mnie! (Polish)
Kellimni! (Maltese)
Pogovarjaj se z mano! (Slovenian)
Поговори со мной! (Russian)
Fala comigo! (Portugese)
Snakk til meg! (Norwegian)
Разговарај са мном! (Serbian)
Prata med mig! (Swedish)
Hovor so mnou! (Slovak)
Beszélj hozzám! (Hungarian)
დამელაპარაკე (Georgian)
Konuş benimle! (Turkish)
Snak med mig! (Danish)
Поговори зі мною! (Ukrainian)
Mənimlə danış (Azerbaijani)
Labhair liom! (Irish)
Schwätz met mer! (Luxembourgish)
Discurrà cun mai! (Romansch)
Пагавары са мной! (Belarusian)
Now if I saved you some time for your homework, why not say thank you?

(No guarantees.)