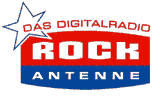 Happy 8th birthday, Rockantenne, Bavaria's Rocking Radio! By the way, not just playing the whole bandwidth of rock music, but quite a full program with news, info, fun (and advertising) and a few big raffles per year (where I've also won a few bucks a few years ago

).
My favorite station for 4½ years that I'm now living in Bavaria…
Can be received throughout Bavaria via DAB Digital Radio (thanks to my proximity to the nearest transmitter without problems in house), FM in Augsburg, cable, Europe-wide via satellite and worldwide via Internet. Just have a listen!