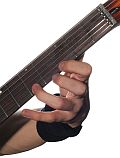 Rockantenne today played the "100 rock songs for eternity", a Top 100 that the listeners could vote for for the last weeks. The entire list is available here; Queen made no. 86 with We Are The Champions, (only) 31 with We Will Rock You and the Top 10 which looks like this:
10. AC/DC: T.N.T.
9. Guns N' Roses: November Rain
8. AC/DC: Thunderstruck
7. Deep Purple: Smoke On The Water
6. Queen: Bohemian Rhapsody
5. Metallica: One
4. Deep Purple: Child In Time
3. Metallica: Nothing Else Matters
2. AC/DC: Highway To Hell
1. Led Zeppelin: Stairway To Heaven
Nice how heaven came after hell – but thanks to the two we-have-to-be-funny chatterboxes who presented the last few hours, there even wasn't enough time before the 7pm news to play the winning title completely!

Alright, no.1 comes as no surprise – I'm rather amazed that One got so high up, even above BoRhap… or how do you see that? Or are you surprized about other places?
---
Photo: Nathalie P – Fotolia.com