This is my entry for a German blog parade about e-mail programs – which program you use and why. Sorry that I didn't translate it yet, does anyone desperately want me to?

iKA veranstaltet eine Blog-Parade zum Thema Mail-Programme (MUA), auf die ich bei der Prinzzess gestoßen bin.
Ich verwende Thunderbird (gewohnheitsmäßig in der englischen Version; gibt's auch auf deutsch) – und das schon, wenn ich mich recht erinnere, seit über drei Jahren, als Version 0.7.x aktuell war. Ich hatte damals was Neues gesucht, um vom nicht unproblematischen OjE wegzukommen, und ein paar Programme ausprobiert (ich weiß gar nicht mehr welche sonst noch) und bin dann bei Thunderbird hängengeblieben, weil's mir am meisten zugesagt hat.
Außerdem, das mal am Rande, benutze ich seitdem 40tude Dialog fürs Usenet, anstatt OjE oder TB für beides (Mail+News) zu verwenden – das Mail-Programm läuft den ganzen Tag, die Newsgroups brauche ich nur vorübergehend, und so ist es wesentlich übersichtlicher mit den ganzen Ordnern (s.u.) und Gruppen.

Thunderbird hat einen lernfähigen Spam-Filter, bei dem (v.a. neuartige oder seltene) Spams zwar anfangs durchrutschen (was auch gut sein kann, denn sonst hätte ich "meine" Anghela wohl nicht bemerkt

), aber mit einem Klick als Spam markiert und entsprechend in den Junk-Ordner verschoben werden, wo sie automatisch nach einer einstellbaren Zeit gelöscht werden (bei mir 10 Tage). Und mit jedem solchen Klick lernt der Filter wieder dazu. Outlook Express hatte damals sowas gar nicht, und ein externes Programm (K9) funktionierte zwar gut, erforderte aber natürlich etwas mehr Arbeit.
Man kann auch umfangreiche Filter einstellen, um z.B. Mails, die das Wort "dringend" im Betreff enthalten, auffällig zu markieren und darzustellen, oder Mails anhand vieler Kriterien in Ordner verschieben, und wie man in diesem Screenshot erkennen kann, benutze ich auch etliche hierarchische Ordner: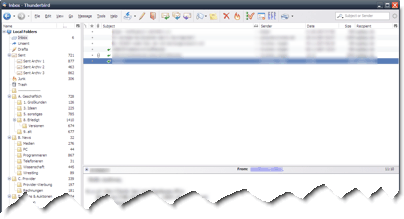 Und man sieht auch, dass ich viel zu viele Mails aufhebe…
Was mir an Thunderbird natürlich auch gefällt, ist die Erweiterbarkeit mit Extensions, wie man sie ja auch vom Firefox-Browser kennt. Und da gibt's einige… (wobei ich bei Thunderbird deutlich weniger einsetze als bei Firefox).
Was mich manchmal etwas stört, ist, dass man, wenn man verschiedene Absenderadressen, die aber fürs selbe Postfach gelten, verwenden will, dafür jeweils einen Account in Thunderbird anlegen muss. Aber so oft braucht man das eigentlich auch nicht. Und man kann eben auf einfache Weise mehrere Accounts verwenden.
Ich verwende ausschließlich POP3-Mail-Konten, kein IMAP – wobei alle Mails auf meinem Hauptrechner archiviert werden; wenn ich z.B. mit dem Wohnzimmer-Notebook Mails abrufe, belasse ich sie immer auf dem Server, sodass sie dann beim nächsten Einschalten des Hauptrechners eben dort heruntergeladen werden.
---
So, das soll's jetzt mal gewesen sein. Ich hoffe, ich hab nichts wichtiges vergessen – und bin mal gespannt, was andere (wie der Paraden-Veranstalter selbst) vielleicht so an Exoten verwenden mögen…
---
Die Auswertung ist hier auf iKA's Blog zu lesen –
teilgenommen hatten außer mir noch diese 14:
Carsten

schrieb zum Forté Agent und Outlook

Björn

schrieb zu Outlook

Frank

schrieb zu Thunderbird
Gero schrieb zu Opera

Mariusz

schrieb zu Thunderbird

Matthias

schrieb zu Google Mail
Morten schrieb zu Mutt

Roman

schrieb zu Thunderbird und RoundCube

Thorsten

schrieb zu Outlook

Sebastian

schrieb zu Windows Mail und Lotus Notes
Susanne schrieb zu Thunderbird

Stephan

schrieb zu Google Mail
Ute schrieb zu Outlook
Ute von miradlo schrieb zu KMail und Thunderbird
(ja, auch einfach kopiert, diese Liste

)