– Part of a series –
(Again, I'll try to make this the mockery of a scam in bad German have some sense to you English readers…)
Yes, my dear (hopefully would-be) criminal (or are there really folks falling for this rubbish German?), I can imagine that you laugh at people – "at me is now the laugh to The person" –, but believe me, we are also laughing, and that "I want with you to say is fair."
You cannot understand me." Yes, that's really hard. Und apparently much harder vice versa. And I also cannot understand why you are so cruel to that poor teddy – what has he done to you?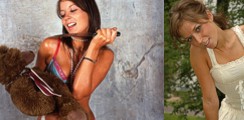 "Sometimes I think, that I not will Have enough time you, to make to all, so that I want." You got so many "friends" that you can't keep up telling them all that you want to visit them? And the routing, then, surely is a traveling salesman kind of problem, isn't it?
"When you are done to give to me, we can in make the next step Our relations." You mean you'll be the only one to give, then? I like that.

But – making a sexual innuendo, hoping you'll understand it – don't worry, I've got to give you a lot.

"Of course I want the fall, but me not hurry I think that you it want should." Fall? Yes, I hope the police will bring about your downfall. Or d'you mean bungee jumping? Nah, without me, it's too exciting. At most, I could be talked into doing a nude tandem jump with you…
"I the youth and already The girl", "now I feel that I Finished creating the familiy, and I want it with the whole heart." What, you already got a man and children (an older one and a girl – was that herr teddy?), and want to leave them now? "I hope that it with you alright be is." No, it not is be! I wouldn't have thought that of you, it's getting worse every time!
"The swee?est kisses and the good night." – pah! –
"Anghel"

(PS: If you, dear reader, happen to own the rights of these pictures the spammers used, just send me a little note and I'll remove them.)
Show entire spam text (German) ▼
See also this German antispam forum here and especially there…
And again the explicit note that this can only be frauds that want to grift pretended travel costs and/or do money-laundering.
Continued: The Seven-Anghela Itch