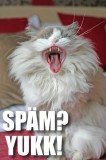 A little collection of strange spam clippings that are not worthy of separate posts…
Mails
A typical lottery spam that was really nothing special (by the way: if they alledgedly picked one of hundreds of millions of mail addresses, why do they still use winning numbers?) – only the form of address is noteworthy:
Dear E-mail ID,
No, that's too impersonal for me.
---
From one of the mails that combine a short and somewhat sexual sentence with added prose (to confuse spam filters) advertising something that you can't clearly tell what it is:
Fiill your bed partner's brain with the excitement and satisfaction
Somehow I thought that it's not the bed partner's brain that get filled, but rather other body regions…
---
A mail with the subject "PlaceAnd bowd his eminent top.":
Sweet disaster with a worldOf. Lord put him tot let him. [Aside to BERTRAM] O for.
…and nothing more. An ad for dadaist art?
"Can I help you?"
(Translated from German) A "fortuneteller, miracle-healer, mystic" picks the commentators of the (German) "furtuneteller check" blog of all people to spam them with (in my case with a comment on the contact page and by mail) with above question.

Failed spam comments
In the URL field: "hi!"
Comment text: "file_links\Mmedia\(D) FILES\xrumer\full5\Projects\links.txt,35,S]"
In the URL field: "FYOLeNkRChFIAHSJmKA"
Comment text: "mypetpharmacies.txt;10;15"
In the URL field: "link"
Comment text: "What i must send to you if you need this health?,"
In the name field: "name"
In the URL field: "link"
Comment text: "Good day!,", "Hello!,", "Hi webmaster!"
Bush's bad English
In the name field: "Bush" – new job for an ex-president?

— text (the lines with numbers were links to subdomains at a free hosting service):
sorry for my bad english
down Angeela6938
was Teera202
thing Aleberta869
that Jeneefeer5733
part Angeela714

baby sweeeeet
Yeah, really can't call that good English…
Almost an insult
In the name field: "WP Themes" — text:
I think your blog need a new wordpress template. Downalod it from […]. The site has nice and unique wordpress templates.
Coaching without success
Finally a manual comment (German, my translation) on the search request reply post that occasionally is found when people search for a certain fortuneteller (who I wrote about in German only), written by someone (whose name I removed here) who had searched for exactly her name:
Hello to everyone who desperately search for help and contact Esmeralda [the fortuneteller].
Unfortunately 70% of all people want to make their profit from the sorrow of others. I've been a success
& personality coach for 11 years and have helped many people to live happier and more successful. But one thing you can believe me, not even death is for free.

Stop falling for such fraudsters and search for persons who can really help. Gladly I provide information about people who can help. Just have a look at my website (preferrably simply under [first name] [last name]) and inform yourself. And if I can help you I gladly will.
Have a good life.
[first name]
In the URL field he entered a URL conforming to the pattern www.[first name][last name].de – which doesn't even exist!

His real domain would be [last name].de only…
---
Photo (orig.): Justin Hall – Fotolia.com