Smoke on the water – and over an entire city…
A few numbers: 1944: 282, 246246, 1200 → 62, 6500, 1000, 10.
What do these numbers mean, you ask?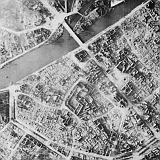 On 4 December 1944, 282 British bombers dropped in one of the most severe air raids of World War II 246246 bombs with a total weight of about 1200 tonnes on Heilbronn – where I was born and lived for a long time –, destroying 62% of the city and killing presumably 6500 people, inluding about 1000 children under the age of 10.

And the umpteen millions of other victims of this war should not be left unmentioned…
(Numbers from Wikipedia.)
Oh, and on 4 Dec 1971, the casino in Montreux burned down during a Frank Zappa & the Mothers of Invention concert, inspiring Deep Purple to Smoke on the Water.