Exactly 6 months ago, I posted a few statistics about my visitors – time for an update…
Numbers are again based on the data from blogcounter.de from late August 2007 until now (which of course contains the data I posted in October, but that was less than 8 percent); my own visits were not counted.
Browsers:
The Internet Explorer is still dominating, there was only a slight decrease from combined 57.5% to 55.5%; IE 7 can't recompense for IE 6's decrease (from 28.7% to 23.2% total or 22.8% from Nov to Apr):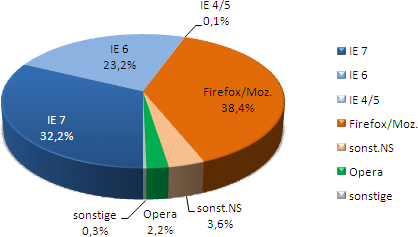 Operating systems:
Just a light decrease from 95.9% to 93.5% for Windows in total – with Vista, of course rising (from 7.8% to 12.6%, or 13.0% Nov-Apr), XP declining from 81.8% to 75.7%. Guess Microsoft was hoping for more…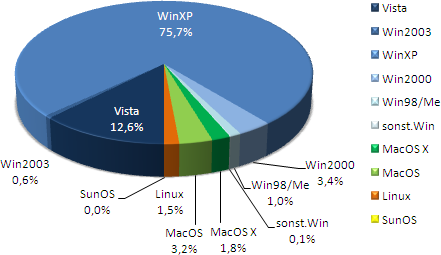 Screen resolution and color depth:
No diagrams this time for these (also because Blogcounter.de shows just a Top 10, which ignores some resolutions) – a slight trend to normal (1280×800) and medium-high (1440×900 – 1680×1050) widescreen resolutions is apparent.
Time of day:
The old graph is pale in the background. You can see that the share of German/European visitors increased and the share of the American visitors (the hump at 3–5 a.m.) decreased; my German "The Next Uri Geller" show reports are mainly to "blame" for this, especially for the spike around 21–22h when the show was on…