Now that Webtrekk GmbH published its current statistics about browser & co in Germany for the 3rd quarter (see also Golem) – IE 6 is still used most (41,15%), then Firefox/Mozilla (27,08%) and IE 7 (25,23%); Windows XP clearly dominates (79,56%) in front of the rest (more in the official PDF) – I thought I'd publish my blog's statistics, too.
My numbers were collected by Blogcounter.de since late August – with the advantage that they do not count my own visits, so that doesn't blur the data.
Browsers:
IE (all versions put together) dominate here too, but the share of Firefox/Mozilla is higher than in the Webtrekk statistics ("sonstige" = other):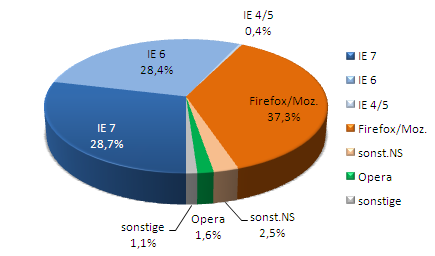 Operating System:

Here, too, a clear dominance of Windows XP – and all Windows versions together sum up to 95%! And one single visitor used SunOS (assuming correct user agent setting)…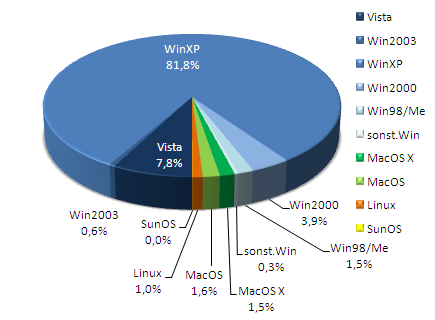 Screen Resolution:
1024×768 is ahead with 40,8%, but the 1280 resolutions together are close behind: 34,6%. The larger ones sum up to 11,1%.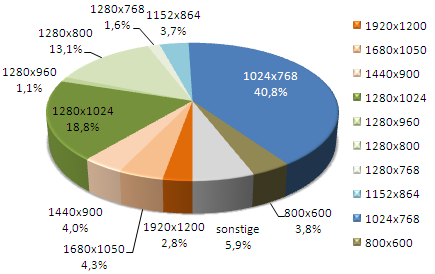 Color Depth:
Clearly, true-color rules.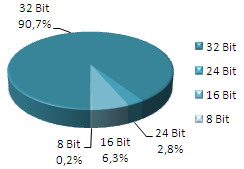 Time of Day:
And while I'm at it, I also show the distribution of my visitors by hour (click for larger view):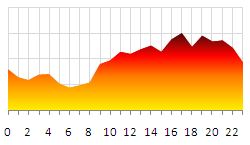 So, that's all pretty(?) pies and areas I've got for now…