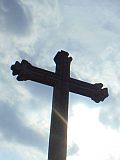 Now the organizers of the catholic World Youth Day in Australia just wanted a happy celebration with hundreds of thousands of beautiful young people reveling in their phantasies, and then a father of two abuse victims – one of his two daughters apparently killed herself earlier this year, the other is addicted to alcohol – and brings up these old stories again. Isn't he ashamed!?
At least that's what the organizing bishop Anthony Fisher may have thought – seriously, unlike my sentence above:
"Happily, I think most of Australia was enjoying delighting in the beauty and goodness of these young people and the hope – the hope for us doing these sorts of things better in the future – as we saw last night, rather than, than dwelling crankily, as a few people are doing, on old wounds."
(source: ABC News)
And the Papa-Ratzi apparently doesn't want to meet with abuse victims, tight schedule and stuff. But even if he'll meet them privately anyway: The way the catholic authorities are dealing with "these sorts of things" certainly has room for improvements…
» More at ABC News, Daily Telegraph.