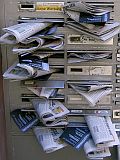 Alvin, the "great" comment spammer who shows up here from time to time since early July (originally got through, now reliably in the spam folder), just doesn't give up – it's no longer nine short comments at once, but certainly two to five at the same (current) post – not too intelligent. And he doesn't recognize that his rubbisch doesn't get published.
But surprisingly he not only varies his name from alvin to al to Dave – it's now three different music sites he tries to link to.
And what is he writing? For instance this which is quite honest (though probably without intention):
nice and easy source of income i really like it…
Is he referring to the weddings I mentioned on Friday (8-8-8) – or to his spamming? He probably gets his pennies regardless of the spam's success…
its nice to read and explore this kind of web site because it learns all the people that reads it….
Well, he's certainly not 100% right here – at least there is one person who learns nothing at all. (Not even how to use the word "learn".)
But Alvin, what's all the following triteness? I can't even poke fun at that!
great post i really like it…

thanks for the information…

interesting site it really learns me a lot…

keep up the good job…

great post i really like that…
That's gotta get better!