Now 731 is not that catchy a number. So let's make that 24. Hm, could be mixed up with the TV seroes. So we better take this: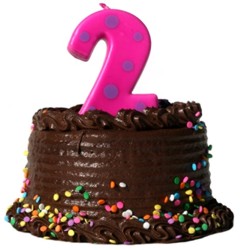 Because my blog turns 2 years old today. Just wanted to mention that (and also in time, after I almost missed this anniversary last year) – not without thanking the hundreds of commenters who wrote over 1600 comments1 to the about 640 posts so far:


Want a piece of the cake? There's enough for everybody, so help yourself and enjoy!
---
Photo: JJAVA – Fotolia.com
this does not include my own comments and the trackbacks/pingbacks; with them, it's over 3000 [↩]