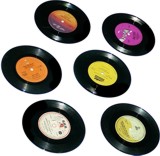 The second post in this little series about relatively unknown Queen songs, this time "I Go Crazy" – » unofficial still-image video here –, B-side of the "Radio Ga Ga" single that was released today 25 years ago, on 23 January 1984.
It contains somewhat funny lyrics with self-references:
I took my baby dancing – to see a heavy band
But I never saw my baby 'til the encore
She had the singer by the hand
[..]
So I ain't gonna go and see the Rolling Stones no more
I don't wanna go and see Queen no more no more
Postman, gas man etc. as rivals would still be okay for the narrator, but that she left him for a rock'n'roller?? — See the entire lyrics at LyricWiki.
And if you also want to see the video of the "slightly" better known A-side: This way. Or take the extended version (unofficial video) right away.