As if it wasn't bad enough what the military regime in Myanmar/Burma (now what's the name?) is doing – and not just during the current demonstrations –, now the ZDFtext reports about shooting with demonstrators: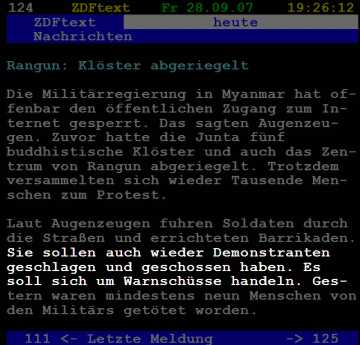 Translation: "They reportedly have beaten and shot with demonstrators again. They say it was warning shots."
They must have quite big cannons… and how does this work, a warning shot of demonstrators – are they shot only slowly or a low height so they don't die when falling back down?

Alright, it may be just a typo – one little letter in the German text so it would read "…have beaten and shot at…"

Bad enough.
So, yesterday, 07/07/07 (unfortunately not on 07:07), the "New 7 Wonders", which could be voted for on the internet, have been published – not officially acknowledged by the Unesco, not undisputed, but… well, never mind. So we now have (or don't have), besides the ancient wonders of the "world" – limited to the Mediterranean area and the Middle East, which was the world known in ancient Greece –, which are
also (=> 14) – or only (=> 7)
– including, by the way, just two of my seven votes, and the Neuschwanstein Castle in Germany didn't make it, "of course", was apparently on the unrewarding 8th place – and, so Zahi Hawass doesn't get mad, also (=>8) the honor candidate, the "eternal wonder":
the only ancient wonder that still stands.
Think of it what you want, 't is a nice thing, somehow, anyway…