In times of TV stations changing their schedule more often and on shorter notice – especially ProSieben is notorious in Germany for series – I'm generally wondering how useful TV magazines are that cover two or even four weeks, plus the period between release and first schedule day.

But even weekly magazines may have a problem, especially if this period becomes longer, and so I was surprised to find the latest edition of the HÖRZU (title translates to "listen"; for me, still the best of the "big" German TV magazines) in my mailbox today – with schedules from 13 October, i.e. 11 days in advance (including 1 public holiday, though). Already in the recent past, it arrived mostly on thursdays (9 days in advance), earlier it was fridays, like (still) on public sale in shops. Well, since I use electronic means more and more, it's only a matter of time until I'll do without any printed schedule, anyway. But I digress.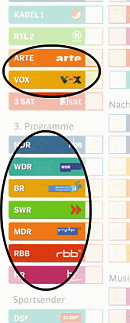 In this issue, they included a "channel planner", a 8×21 cm large card where you can write down your individual channel numbers next to the station name and logo and then use it as bookmark for the magazine. However, this planner seems not properly thought out to me:
(1) The stations are not listed in the order they appear in the magazine: below "main stations", Arte and Vox are swapped, and the order and the colors of the "thirds" are completely mixed up.
(2) Under "familiy stations", there's not only that church stuff (the inclusion of which into the magazine I consider a waste of space, anyway – but for all I care, well, let the beleivers have ther station, it kicked a call-in channel out of the magazine

), but also a shopping channel. Now that really doesn't belong there.
(3) On the back side, there's room for program numbers for Kabel Deutschland and Premiere, two big digital channel bouquets. Room for one program number. That may only be useful for people who have stored the channels of the respective broadcaster en bloc in their receivers (for the first number of each), be it because they are unable to make it better, be it because they use castrated receivers (as KD likes to provide

) which do not allow a re-ordering…