This is about a show from the first German season of "The Next Uri Geller" from early 2008. You can also:
» Show all my reports from the first season.
» Show everything about the second season 2009.
» Show really all articles about Uri Geller.
A few small, somewhat useless diagrams about this mixture of mental-magic entertainment arts, brainwashing of the people by claims of "real powers", and boredom…

Ratings
Updated diagram with world final's ratings (#9) after the German final (#8):
Overtime
How many overtime minutes did the shows have (compared to the original announcements, not the teletext/EPG data)?

Page views
How often were my reports about the shows accessed?
The data was gathered with the WordPress.com Stats plugin (which counts neither my own accesses nor search engine crawlers).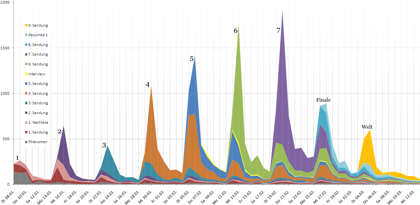 (click for large view)
The peaks are from Wednesdays, i.e. the days after the shows.
Starting with the 4th show, I added – for SEO, if you will – "opinion, tricks, explanations" to my post titles.
The drop for the German final must have been caused by the fact that, since it was the final, many other sites (including major news sites) wrote about it, there wasn't that much traffic left for me…
Summarized for each post: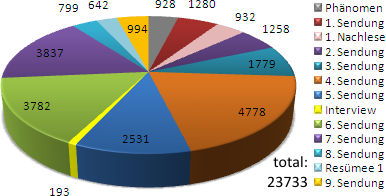 Alright, not thaaat many; for example, the gellerentlarvt blog that I linked to a few times, sometimes got that many during a single show – but for me, quite okay. And hey, I don't want hundreds of comments on each and every post, that would mean quite some work.

Concurrent visitors
According to the who's.amung.us tool, there were a maximum of 51 concurrent visitors (during the shows), i.e. within 5 minutes, it seems.