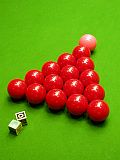 1316.75. And good entertainment.

1001 frames in World Snooker Championships finals since 1977 in the Crucible Theatre in Sheffield.
Two maximum breaks (147 points) last week – scored by the two finalists, Ronnie O'Sullivan and Ali Carter.
With 18:8 frames, Ronnie won today's final…
…after 17 championship days…
…for his 3rd world championship title. Congratulations!
Unfortunately with a power outage of over half an hour in Eurosport's broadcast center this afternoon, so two frames were missed.