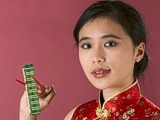 Warning: It will be a little techical here

– but maybe just ignore the details, you still can get what's odd here, so in case of doubt just read the bold print…:
From the SMBios/DMI info for memory modules that are supposed to be set by the BIOS, ideally taking the info from the modules' SPD EEPROMs:
Manufacturer: 48spaces
Part no.: 312345678901234567890123456789012345
Serial no.: 31234567
And the same for all four slot info items. How did that go, did someone say to his colleague programmer: "Nobody cares about these fields anyway, just write 48 spaces into them"?


---
Photo: Lev Olkha – Fotolia.com