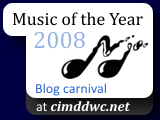 Like last year, I'm conducting a blog carnival (what's that?) in which I'd like to know which music you liked best this ending year:
Your song of the year?
Your album of the year?
Your live concert of the year?
(Alternatively, if you weren't at a noteworthy concert: Live album/DVD of the year.)
Preferrably, it should be new releases of 2008, but if you came across something older and like that more than any new stuff, that's also okay.

And I don't mind if you write a little more about your choices, of course, but you don't have to, a simple list is enough.
If you want to participate, write – as usual for blog carnivals – a post on your own blog (you can use the graphic above if you like) and inform me (and the other readers) via trackback/pingback or, if that doesn't work, a manual comment to this post here; the carnival ends on 11 January 2009 11:59pm, and I'll analyze the results afterwards, of course.
I'm curious to see what will be mentioned…
You can win something this time: If at least 10 people participate, I'll raffle off a CD single "Say It's Not True" by Queen+Paul Rodgers, if there are at least 20 participants, I'll add an album (CD) by, you guessed it, Queen+Paul Rodgers "The Cosmos Rocks". Incl. shipping within Europe, of course. Legal recourse is excluded etc.
---
My own favorites are:
Song: A tough decision, but the winner is

"Blind Man" by Black Stone Cherry

– close runners up are

AC/DC

,

Metallica

, Mötley Crüe,

Queen+Paul Rodgers

, and certainly a few others I forgot now…
Album: Rest of Queen + Paul Rodgers: The Cosmos Rocks. What else could it be? Of course Queen is not the real Queen without Freddie, but it's good music nonetheless – see my review.
Concert: The concert for the album. What else could it be?