The results of my blog carnival – since there was no English participant, there's no English text.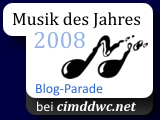 So, meine Blog-Parade ist vorbei, schreiten wir also zur Auswertung. Gefragt waren euer Song, Album und Konzert/Live-DVD des vergangenen Jahres – vielen Dank an die 21 Teilnehmer! Und da 21>20, wurden natürlich auch Single und Album verlost (siehe unten).
Eine Hitliste lässt sich bei diesem vielseitigen Geschmack natürlich nicht erstellen – aber ein paar Ergebnisse/Erkenntnisse kann ich doch auflisten und Besonderheiten nennen:
Es gab noch weniger Gemeinsamkeiten als letztes Jahr, wo wenigstens ein Song 3½x und ein Konzert 5x genannt wurde – diesmal konnte kein Künstler mehr als 2 Teilnehmer für sich gewinnen.
Knapp die Hälfte der Teilnehmer nannte Künstler mehrfach in verschiedenen Kategorien.
Aus Unterneuntupfing kam natürlich ein satirischer Beitrag.
Sam hat eine Wertung in einer interessanten weiteren Kategorie vergeben: "Das Konzert, aus dem ich dieses Jahr mit den meisten blauen Flecken rausgekommen bin, war DiscoEnsemble."
symBadisch hat noch die EP (Sixpence None The Richer) und die schönste Special Edition (Snow Patrol) des Jahres hinzugefügt.
Julia macht gleich zwei Listen: eine mit Glasvegas, eine mit anderen Bands.
Und weil's zum Thema Musik passt, hier noch eine kleine Ankündigung: Ab morgen gibt's wieder mein Musik-Quiz – jeden Dienstag um 16 Uhr, morgen wieder die Bilderrätsel-Variante.
Die Teilnehmer
Teilnehmer
Song
Album
Live
a blog about nothing
Face Tomorrow: "A Phoenix And A Deer"
Favez: "Bigger Mountains Higher Flags"
Slut im Saarbrücker Roxy
beetFreeQ
Portishead:

"The Rip"

Portishead: "Third"
Kaizers Orchestra als Headliner des Omas-Teich-Festivals
Captain Obvious
Flobots:

"Mayday!!!"

Flobots: "Fight With Tools"
(Stock Car Crash Challenge: The Offspring mit You Gonna Go Far Kid, allerdings war das nicht wirklich Live-Feeling und auch nur ein Song.)
ich
Black Stone Cherry:

"Blind Man"

Queen+Paul Rodgers: "The Cosmos Rocks"
Queen+Paul Rodgers in München

Dani Schenker

Züri West: "Flachgleit"
Oasis: "Dig Out Your Soul"
lokale Bands in Costa Rica
Dave
George Duke: "Dukey Treats"
Yellowjackets featuring Mike Stern: "Lifecycle"
Mike Stern Band with special guest Randy Brecker featuring Dave Weckl & C. M. Doky (Berlin)
Entertainment Life
Peter Heppner:

"Alleinsein"

Bernstein: "Lichtwärts"
Grönemeyer: "12" (DVD)
Hans
Kid Rock:

"All Summer Long"

Udo Lindenberg: "Stark wie zwei"
Rihanna: "Good Girl Gone Bad Live" (DVD)
HerrSalami
The Lodger: "The Good Old Days"
und 9 weitere
PeterLicht: "Melancholie & Gesellschaft"
und 9 weitere
Franz Ferdinand in Tallinn
und 4 weitere
juliaL49
Glasvegas:

"Daddy's Gone"


The Indelicates: "Julia, We Don't Live in the 60s"
Glasvegas: "Glasvegas"
Towers of London: Fizzy Pop
Glasvegas in York
The Wave Pictures und Jeffrey Lewis in Manchester
Konzertwelten
Keane: "Spiralling"
Keane: "Perfect Symmetry"
Die Happy (beim Hamburger Hafengeburtstag)

Lordy

1
NamNamBulu:

"Now Or Never"


Blutengel: "Dancing In The Light", Nachtmahr: "Katharsis"
L'Âme Immortelle: "Namenlos"
Blutengel beim BlackField-Festival
Postpunk
Ipso Facto: "Harmonise"
Foals: "Balloons", M83: "Teen Angst", Angelika Express: "Geh doch nach Berlin", Diego: "September march"
–
–
Ralf Boldt
Unheilig: "An deiner Seite"
In Extremo: "Sängerkrieg"
Blitzkid auf dem Mera Luna
Sam
Lapko: "Killer Whales",
Von Hertzen Brothers: "Faded Photographs",
Sugarplum Fairy: "Bus Stop"
Jann Wilde & The Neon Comets: Neon City Rockers,
Von Hertzen Brothers: "Love Remains The Same",
Grace Jones: "Hurricane",
Guns N' Roses: "Chinese Democracy",
Fall Out Boy: "Folie A Deux"
HanoiRocks
Shredder Blog
Foo Fighters:

"The Pretender"

Stefanie Heinzmann: "Masterplan"
–
Spontis
Grossstadtgeflüster:

"Ich muss gar nix"

Blood Red Shoes: "A Box of Secrets"
Subway To Sally beim Blackfield Festival
Stephan A. aus B.
Shinedown:

"Sound of Madness"

Staind: "The Illusion of Progress"
Everlast in Stuttgart

Stephan Schmatz

Rosenstolz:

"Gib mir Sonne"

Rosenstolz: "Die Suche geht weite"
–
symBadisch
Coldplay: "Viva La Vida"
Coldplay: "Viva La Vida or Death And All His Friends"
Muse: HAARP (DVD)

tonnendreher

Die Broilers: "Ruby, Light & Dark"
Cavalera Conspirancy: "Inflikted"
Die Broilers: "Vanitas Recordings"
Broilers in der Funbox Amelie in Essen
Suidakra; Saltatio Mortis
Unterneuntupfing2
Franjo Pooth: "Running on empty",
George W. Bush: "Time To Say Goodbye",
Stefanie Hertel: "Schatz, lass diesmal mich blasen",
Eva Herman: "Der Tag, an dem Johnny B. Kerner starb",
Johannes Heesters: "Mit 166 Jahren fängt das Leben an"
Die Amigos: "Ein Königreich für einen leistbaren Stylisten – die wirklich größten Hits der Amigos",
Hoffenheim: "Wir ziehen den Bayern die Lederhosen aus",
Amy Winehouse: "Back in Entzug",
Panini: "Euro 2008",
Barack Obama: "Change. Yes, I jam!"
Hansi Hinterseer vs. P!ink – Eine Triologie kirgisischer Sauflieder
Verlosung
BeetFreeQ wollte nicht an der Verlosung teilnehmen, somit blieben noch 20 im virtuellen Lostopf – aus Zeitgründen gab's keine Urne mit Zettelchen und Video der Ziehung, sondern nur zwei Screenshots, die die (alphabetisch geordnete) Liste und das Ergebnis der bei randomnumbers.info generierten echten Zufallszahlen zeigen:
Und somit geht die Single "Say It's Not True" von Queen+Paul Rodgers an Spontis und das Album "The Cosmos Rocks" von denselben an Hans, den Wirbelwebber – herzlichen Glückwunsch und viel Spaß damit!
hat sein Blog zum Jahreswechsel geleert, leider auch den Paraden-Beitrag [↩]
wie gewohnt ein satirischer Beitrag [↩]