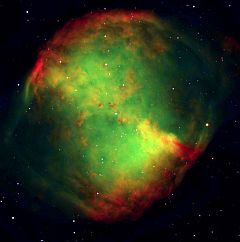 Oh well, the 2 and the 7… This on the right is M 27, the Dumbbell Nebula (image: ESO (Wikipedia)).
27 is a cubic number – and a pretty one at that, 3³. If you start at 0 when counting Pi's digits, 27 is found at location 27 – apparently a rare case.
27 is (in base 10) the first composite number not evenly divisible by any of its digits.
On January 16, 27 B.C., the Roman Senate votes Octavian the title of Augustus. He accepts this honor, having declined the alternative title of Romulus. He is known as Augustus afterwards – the first Roman emperor.
And this blog, too, is now running WordPress 2.7. As usual: If you notice something that's not working as expected, drop me a line, please.