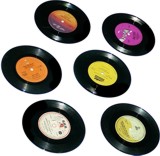 On the 36th anniversary of the release of the first Queen album, I've got a few songs for you that have not been released on singles:
» "My Fairy King" (still-image video) – this vocally interesting song has an additional story (quote from Wikipedia):
Before writing this song Mercury was known as Freddie Bulsara, and this song is said to have inspired him to change his surname. Its lyrics contain a verse with the words "Mother Mercury, look what they've done to me." Brian May has said that after the line was written, Freddie claimed he was singing about his mother. Subsequently, Freddie Bulsara took the stage name Freddie Mercury. This was another attempt to separate his stage persona ("extroverted monster", as Mercury himself once described it) from his personal persona (introverted).
» "The Night Comes Down" (still-image video) – A ballad written by Brian May.
» "Modern Times Rock 'n' Roll" (still-image video) – Not just written by Roger Taylor, he was also singing, and somehow this song's always modern.


When played live on stage, though, Freddie was singing, as here at the Rainbow in 1974.
Hope you liked at least one of them.

---
Photo: clix/sxc