A random music baton I found at Yuki Keylin's…
RULES:

Put your iTunes, Windows Media Player, etc. on shuffle.
For each question, press the next button to get your answer.
YOU MUST WRITE THAT SONG NAME DOWN NO MATTER HOW SILLY IT SOUNDS.
Tag whoever you want including me.
Title this note with the name of the last song in the sequence.
Now lets see which "answers" I'm getting…
If someone asks 'are you okay' you say…?
Mission Impossible Theme (Metallica)
How would you describe yourself?
oh oh…: Bobby Brown (Frank Zappa)
What do you dream about?
Mozart's 40th symphony
How do you feel today?
Gallows Pole (Led Zeppelin) – Disclaimer: No, I'm not thinking about suicide.
What do you look for in a guy/girl?
Lo que hago pro ti (Fatal Error) = "What I do for you", if the automatic translation's right
What is your life's purpose?
Restless (Within Temptation)
What's your motto?
The Oath (Manowar)
What do your friends think of you?
Over And Done (Deine Lakaien)
What do your parents think of you?
My Velvet Little Darkness (Lacrimas Profundere) – erm, I really doubt that
What do you think about very often?
Your Fight (Skunk Anansie)
What do you think about your first kiss?
She's My Winona (Fall Out Boy) – oops, that wasn't her name…
What do you think of your best friend?
Dark Wings (Within Temptation)
What is your life story?
The Loser In The End (Queen) – veeery funny, my dear random number generator
What do you want to be when you grow up?
Uterus (Das Ich) – I'm really glad that I'm already grown up now…
Aaaah yes. Good that such a random list doesn't influence reality in any way (even if there surely are some mysticism fanatics who'd believe that).

I was reading in the feed reader about the new Thunderbird update for the first time, and which window wants attention right at that moment?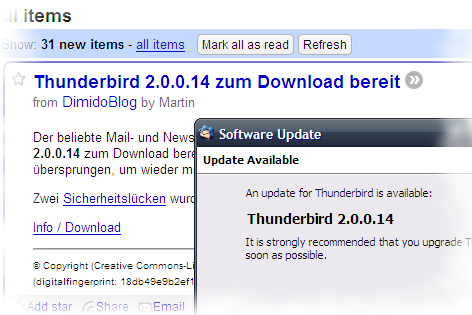 Of course the update notification window. Just coincidence?

Depends… Of course there are no "mysterious vibes" or anything like that, but just the fact that the update was new and it wasn't long after I had switched on the PC and started the daily routine of reading mail and feeds – so rather even a certain causal relation and nothing that'd be useful for my mystic/pseudoscience satire.