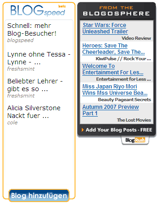 Does automatic link exchange with other, allegedly topically related blogs really generate a noteworthy amount of traffic, i.e. new readers? Even though – or because? – these link fields don't really match your own blog's design?
Update: At BLOGspeed, you can now pick the colors freely, and BlogRush now offers 13 "flavors".
Well, it's worth a try, especially when it's new services (which hopefully will become more configurable). So I registered with the German BLOGspeed (found at Datenschmutz) and the English BlogRush (found, among others, at Daily Blog Tips), with only the one corresponding to the currently selected language being displayed, of course – near the end of the sidebar on the right.
I picked the category "Entertainment" which seems least inappropriate for my blog "about anything". We'll see what kind of links will show up there… hope it's not too much celebrity gossip.
If you want to register, too, why not do that via my referral links, so that I get a few "credits" (for more displays of own links on other blogs):


– for BLOGspeed (for German blogs)
– für BlogRush (currently for English blogs only)
(or click the link at the bottom of the link field).