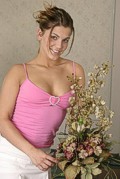 Discoveries of the day:
Alleged 100% Polish girls

pretending they'd like to come to Australia are asking – unlike alleged half-Polish half-Russian girls saying they want to go to Germany, see below – not immediately for name and age and thus only demand 5 instead of 10 minutes of our valuable time.
Dating scam spam, despite including photos, is getting more and more boring, because their English is getting better (maybe because they use simpler Russian as basis for their automatic translations) and no additional automatic translations into German are used anymore. (At least as far as my mailboxes are concerned.)
The scammers are apparently not dying out, as well as those falling for them, since then they wouldn't mail their stuff anymore.
---
Greetings from Russia

Greetings from Russia, city St-Petersburg to you dear friend!!!
I hope that you will read this letter with interest and answer to me soon.
I don't know how I can start my letter to you.
I HOPE THAT YOU WILL READ THIS LETTER VERY ATTENTIVE!!!!
PLEASE, IT WILL TAKE ONLY 10 MINUTES, BUT PROBABLY MY LETTER WILL
CHANGE YOUR LIFE...........
FOR THE FIRST!!! THIS LETTER FROM INTERNET DATING AGENCY!!!!!!
I GAVE THEM THIS LETTER AND TO ME HAVE TOLD THAT THEY WILL SEND LETTER TO SINGLE MAN IN GERMANY.
This letter will be short, I think.
But if you will answer to me I will write more about me and about my life.
My name is Yuliya. I'm from Russia, city St-Petersburg.
I'm 1/2 Russian and Polish. My father from Russia. My mum from Poland.
I sent my pic to you, so you can see me. I hope that you will like it.
I'm 26 years old woman. My Birthday on May, 28, 1981
The purpose of my letter: I will get the Visitor Visa on May, 2008.
I want to arrive to Germany, but I have no any friends or relativies who
can meet me on airport. I really hope that you can do it for me.
Probably we can develop our relations also.

So, please, write me on my personal E-MAIL: yuliya.logvin@gmail.com

I hope that you will have interest after reading my letter.
Also I have interest also. Please tell me:

1 – Your name
2 – Your city
3 – Your age
4 – Send me your photo also

Ok, I will close for now, but I will wait your answer so much!!!
I really hope that you will give me chance to have meeting!!!
Waiting for your answer,
Yours friend Yuliya from St-Petersburg
Well, I would have preferred a real "new Anghela"…
---
PS: If you, dear reader, happen to own the rights of this photo that the scammers used: a brief e-mail is sufficient and I'll remove it. Or do you know the actual source?
* If you don't understand the title "Shout as much as you want!": WRITING ALL IN CAPITAL LETTERS is regarded as shouting in e-mails & co.