– The tragedy's fifth part… » Part 1, part 2, part 3, part 4 –
(Again, I'll try to make this the mockery of a scam in bad German have some sense to you English readers…)
"The bad news for me." Oooh, I'm so sorry to hear that… (I admit it, that was a lie.)
"I have Lost my purse at the station, when about to, driving home." Don't say I didn't warn you! "I was lucky that the [cell phone]card in me into other has layed the place." Erm, you had the card in you, and then someone named Place put it into someone else?

You've been kinda pervert before, I know…
"But now I feel of very one." One what? Photo? That's why you sent only one this time? Do you even have the rights to use a photo that has the name of the photographer and the model agency on it, Valery?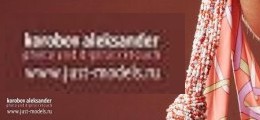 (Same rags, same photo series as in the picture named "Valery.jpg" at just-models.ru.)
"Also consume I it in these days, what you have, better." And I'm striving for consuming less electricity, water, etc. Girl, you must learn thriftiness. Maybe let Antispam-Dogbert introduce you to ascetic life (German).
"Today is in me the mood very bad and I are very tired." Stomach upset? Or your known heart problems? Did you finally find a good doctor? "Tomorrow I hope that I will get arbitrary news." I cross my fingers – and also help you by sending more rather arbitrary text in my mails…
So good night or good morning, whatever you mean with "it now foreign the time me, to sleep", and despite your lies, thank you for
"The kisses Anghel"

Show entire spam text (German) ▼
See also this German antispam forum here and there…
And again the explicit note that this can only be frauds that want to grift pretended travel costs and/or do money-laundering.
Continued: Six with Anghela