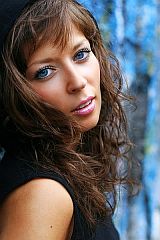 (I know it's hard to translate the mockery of a spam in bad German to English – I made some changes because I couldn't translate everything verbatim without too much explanations –, but please bear with me anyway, if you will… )
I do think nice you want get know *erm* *hrrm* *harrumph* I wanted to say, I like it that you want to get to know me, call me a "dear friend" and send me two nice photos, but you rather try to find a better translator for you than the presumed machine that translated your Russian(?), because otherwise, I think it will only "be comfortable when we by-pass ourselves e-mails" due to the fact we won't read anything from each other.
But I'm sorry to say about "To Me it very Well Your Side on the lot", I don't own a lot of land. Maybe you're right and "it only the big plus for us more older are."
But all that just along the way. I think it's really remarkable how pretty and very female transsexuals can look, it's just that, well, how should I tell you, sorry, unfortunately, I'm not really totally 100% completely interested. Though I'd have liked to know what it is like "to potect" you, couldn't have been too perverted – or could it?

Well, my best wished for your search for someone who just as much searches "the second half of life" (and that even though that comes over time all by itself), and go along with your (electronical, hence non-physical) greetings:
"The strongest and passionate kiss!
Your boyfriend Anghela."
(Alright, one little explanation: English "friend" (and other languages too, I assume) can be male and female, but German differentiates that with "Freund"/"Freundin".)
(PS: If you, dear reader, happen to own the rights of these pictures the spammers used, just send me a little note and I'll remove them.)
Show entire spam text (German) ▼
Update: In the comments in Stefano Picco's blog (German, of course) someone posted the next mail he got from "replying", also in this German antispam forum here and there……
Continued: Reply from Anghela.
Guess I should mention in every part of this series that this can only be from frauds who want to grift pretended travel costs.